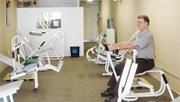 Kermit Jacobson's new fitness club doesn't discriminate by age, but his target market is definitely mature women who want a comfortable and non-judgmental place to work out.
The facility, open now in the Sunnyside Eastway Center, features a number of hydraulic fitness machines that can be adjusted for any level of need. And Jacobson will make sure the machines are at the right level for the person using it.
"Too many people believe that crap about 'no pain, no gain,'" said Jacobson. "I want to give women a workout that makes them feel good while they are doing it and has them feeling good the next day."
His workouts aim to improve endurance rather than just strength. An ideal workout, according to Jacobson, will run about 30 minutes and involve two visits to each machine.
The location was the original home of Curves in Sunnyside, before it moved to the mall and then closed. Jacobson, who owns the spot, is confident the location will attract business. He opened the club because it made financial sense.
"There are a lot of vacant spaces in Sunnyside, too much turnover in renters," said Jacobson. "Everybody wants the new places over by the Walmart. I decided the best way to fill the spot was to start a business of my own."
Jacobson isn't new to the business. He ran a fitness club for mature women for four years in Yakima. He says his wife is pleased to see the equipment from that club moved out of the garage and put to good use again.
The median age of his customers in Yakima was 62 and a half. He hopes to attract a similar clientele to his spot, which is located near the local senior center. He set the hours to appeal to his target market of older women.
He wants his fitness club to be a comfortable place for older women to go.
"At my age I don't want to work out with the high school football team," he said. "Mature women don't want to work out with girls prancing around in leotards."
Jacobson will provide instruction on the machines, and workout programs that have been designed for older women.
"If a 90-year-old woman can walk in here, and can carry a purse, I can adjust the machines to give her a good workout," Jacobson said.