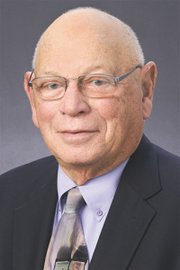 Jon Smiley, CEO at Sunnyside Community Hospital and Clinics, has announced his retirement effective March 1, 2012, according to Board President Jon Mercer and HealthTech Management Services Senior Vice President Dave Woodland. Smiley has served as CEO of the hospital since December 1992.
According to Mercer, "Under Jon Smiley's outstanding leadership, Sunnyside Community Hospital has developed a first-class health delivery system for citizens in the Lower Valley. He has been critically involved in state and national legislation and has kept our board on the cutting edge of health care issues. We wish Jon and his wife Mary the best as they enter retirement."
During Smiley's tenure, the hospital has experienced significant organizational success by attracting new physicians to the community as well as improving financial and operational performance. In addition, Sunnyside Community Hospital has been named as a top performing hospital by state and national organizations, including consecutive recognition as a "Most Wired" hospital by Hospital & Health Networks magazine for its progress in adopting health information technology.
"We have greatly appreciated Jon's efforts over the past 20 years," said Woodland. "He has been an outstanding leader dedicated to meeting the health care needs of the community and ensuring excellent medical services."
Starting March 1, the hospital will have an interim CEO appointed by HealthTech Management Services as the search for a new permanent CEO is conducted.
Sunnyside Community Hospital is a 25-bed critical access hospital. It is a private, not-for-profit facility owned by the Sunnyside Community Hospital Association. An unpaid board of trustees governs the hospital, management services are provided by HealthTech Management Services.
For the past 36 years, HealthTech Management Services has provided management services to Sunnyside Community Hospital and Clinics. Through a relationship with HealthTech Management Services, Sunnyside Community Hospital has access to support services and resources that allow the local community to maintain control of their hospital and pursue their mission of promoting quality health care services.