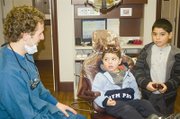 Dr. Sean Quigley is the latest addition to Community Dental Clinic in Sunnyside, specializing in keeping the teeth of children clean and healthy.
Quigley and his family moved to town six months ago specifically for the dental job. He was recruited because of his talents in dentistry, and he's turned out to be a good fit for Sunnyside.
He is fluent in Spanish after spending time in Chile on a mission for his church and time in Bolivia working on water sanitation projects. And he loves the patients in Sunnyside.
"I like meeting new people," he said. "The set up at Community Dental is great, as well. It makes my job easier."
His job is as a dental technician for children and young adults, the main clients of the clinic. And he has a few stories to tell.
"I've been gnawed on," he admits. "It wasn't intentional."
Moving to Sunnyside was a change from his native Pittsburgh, but he's found it a good place to live.
"There are a lot of things to do here," he said. "And harvest time is really impressive."
Quigley has a wife and young son. He said he met his wife when his sister-in-law played matchmaker to get them together.
Quigley loves sports, particularly hiking and camping. He's climbed both Mount Rainier (in 2006) and Mount Adams (in 2008). He's currently in training for a marathon.