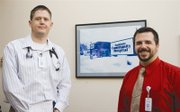 Sunnyside Community Hospital is one of several hospitals partnering with Pacific Northwest University of Health Sciences in Yakima.
That partnership provides medical students like Mike McCormick and Bryan Tolle the opportunity to learn at the side of experienced physicians.
McCormick is from Bremerton and said he initially selected the Yakima university because he liked the location, which isn't too far from his family.
"But I was sold on the contagious excitement...I wanted to be part of it as it was developing," he said of what cinched the deal when he was choosing from among the schools to which he was accepted.
Tolle, who is from Indiana, said he wanted to pursue a career in medical osteopathy. He, too, was accepted at several schools, but the personal connections made at Pacific Northwest University convinced him of where he should go.
There was some reticence, Tolle admitted, stating he researched the area and learned it was "high desert."
"I was concerned after having served in the desert while in the military. My wife convinced me it would be alright and once we arrived, I was pleasantly surprised," he said.
The two students, as part of their education, must serve clerkships, also known as rotations. They chose to stay in the Yakima area, and that will lead to clinical rotations throughout the central Washington region.
"There are several core rotations throughout the Pacific Northwest," said McCormick, explaining some students chose to travel to Oregon or Idaho for rotations.
He said Sunnyside Community Hospital was the first hospital in which he chose to spend the rotation, which ended last Friday after four weeks of working with area doctors.
Tolle said Sunnyside was his second choice, especially because his wife is a first-year medical student and he wanted to be near the couple's Yakima home.
Both men said the rotations are important because they will learn what it is like to work directly with patients in several specialties. That, in turn, will help them decide which specialty they will pursue.
"It's a tough decision to make," said McCormick.
Tolle said, "We have both at one time thought we knew and then something changed...all of my rotations have been interesting."
What has impressed both men is the sense of camaraderie at the hospital.
McCormick said they were each provided a cell phone and the local physicians were informed to call them "if they had an interesting case."
He said the physicians were all welcoming and eager to help the students learn.
"They've been very good about calling...they've been good about making sure we receive a good education," said McCormick.
Tolle echoed those thoughts, stating, "A number of family physicians who weren't part of my regular rotation have allowed me to be present for deliveries and c-sections."
Both said they were honored to learn from the doctors employed by Sunnyside Community Hospital.
"I've seen extreme joy in obstetrics and sorrow," said Tolle.
He said he's grateful to the patients who were willing to allow his presence while they were receiving care, "...allowing trust in their provider to extend to me."
McCormick said he was impressed with the sense of cohesiveness among staff, as well as the resources.
"It was clear the providers all had the best interest of the patients at heart," he said.
The pair completed the rotation last Friday with a "shelf exam," and began working with physicians at another hospital this week.