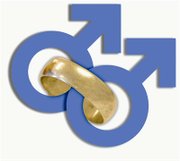 Same-sex marriage is a hot-button issue among individuals, groups and organizations nationwide. And it appears to be heating up locally as a measure is being considered by the state legislature, amending the marriage laws in Washington state that would legalize same-sex marriages.
If the bill passes, Washington would be the seventh state across the nation to do so.
Last week, as the 25th and deciding vote, Sen. Mary Margaret Haugen (D-Camano Island) declared she would vote for the bill. In turn, she caused an uproar statewide of both triumph and vexation.
In addition, last Thursday, Jan. 26, the measure moved a step closer to passage as a Senate committee voted to approve the bill. The Government Operations, Tribal Relations and Elections Committee approved the measure with a 4-3 vote (divided on party lines) which allows the bill to move forward to a floor vote tomorrow (Wednesday). In addition, yesterday (Monday) the House Judiciary Committee approved its companion gay marriage bill on a 7-6 party-line vote.
The state House is also said to have already secured enough votes to pass the bill. That's in addition to Gov. Chris Gregoire's public endorsement of the measure.
But locally, area residents are divided on the issue.
State Senator and Sunnyside area resident Jim Honeyford says he's against the legislation.
"It's unnecessary," he said, citing Washington state's domestic partnership bill that has been in place since 2007.
Marriage v. partnership
For some, a domestic partnership just doesn't cut it.
The current domestic partnership bill allows all couples, including same sex partners, to enter into a legal partnership while afforded many of the rights as a marriage agreement.
The 2007 laws made domestic partners eligible for a number of benefits, including hospital visitation of a partner, participation in medical care decisions, access to health care information and the administration of a deceased partner's estate. In addition, domestic partners are afforded the rights of recognition as a domestic partner on a deceased partner's death certificate, the ability to sue for wrongful death of a partner, the right to inherit property from a partner and to administer the partner's estate in the absence of a will.
The domestic partnership bill was amended in 2009 to clarify that state-registered domestic partners should be treated the same as married spouses and that provisions of the act would be liberally interpreted to achieve equal treatment, to the extent that it's not in conflict with federal law.
For supporters, the measure before state lawmakers is an issue of equality. While it's true similar rights are granted to both marriage unions and domestic partnerships, some say the difference in wording causes an inequality in itself.
Honeyford says domestic partnerships already give gay and lesbian couples the rights they've wanted, "everything but marriage."
Sunnyside High School Gay Straight Alliance Club Vice President James Salazar says different wording for the same rights is just another way "of saying you shouldn't be able to be married like everyone else."
Josh FriSedes, Marriage Equality Director at Equal Rights Washington, a state-wide civil rights organization, says this issue goes beyond a name change in the bill.
He says, as part of a group that supports the measure, he has encountered couples who have experienced situations when domestic partnerships are not socially recognized.
"Marriage is universally understood; domestic partnerships are not," he said.
He said couples in domestic partnership relationships have encountered trouble in emergency room situations because the term "domestic partnership" is misunderstood or not widely known.
"The marriage bill provides gay and lesbian couples with the dignity they deserve," Friedes added. "That should also immediately address health care coverage and emergency room situations with a clear indication of the state that these couples are deserving of the same rights."
Sunnyside High School teacher Dan Thomas says the words "civil union" or domestic partnership, "...makes second-class citizens out of gay and lesbian couples."
He also says that the basic human right to freely choose, without discrimination of any kind, who one wants to spend their lives with shouldn't be confused with religious freedom.
"Marriage, as defined by the state of Washington, shouldn't be confused as marriage defined by religious institutions," he added.
The new bill emphasizes that religious institutions and clergy will not be required to perform same-sex marriage ceremonies or cited for refusing to do so.
Rights and religion
The Washington State Catholic Conference sent statements to its churches locally saying redefining marriage on the state level would undermine the stability of family life.
"It has long been recognized that the stability of society depends on the stability of family life in which a man and a woman conceive and nurture new life," state Catholic bishops wrote in a statement to its members.
Deacon Kerrie Turley at Sunnyside's St. Joseph's Catholic Church says his congregation is in agreement with the state Catholic Conference's statement.
Not all religious leaders have that point of view, however.
Yakima Rev. Bill Poores of Rainbow Cathedral says he and his congregation are in favor of the bill.
"We believe God did not make a mistake with anyone," Poores said. "They deserve total equality in all their civil rights."
Sunnyside Pastor Louis Chase differs, citing the Bible's declaration against homosexual relationships.
"I'm against it, period," said the Trinity Baptist pastor. "God created man and woman; a marriage between two of the same sex is wrong. It's an abomination to God."
The Sunnyside Ministerial Association declined to comment on the issue.
One thing is clear
Though thoughts on the bill differ, locals agree hate messages are intolerable.
Sunnyside LDS Bishop LaDon Linde says a difference of beliefs does not give an individual a right to feel superior or to oppress others.
"We believe marriage is between a man and a woman, it's something that God has ordained," he added. "But I don't think it gives us licenses to persecute those in those lifestyles."
Ted Hancock of Yakima agrees, saying messages of hate are unacceptable.
"I don't care (if you're) gay or straight, if you're sending hate messages across the aisle, it's not ok," the Grandview native added.
Hancock says the freedoms in America come from open discourse and democracy. He said his father (also a military veteran) would agree by saying "I may not agree with your opinion, but would fight, kill or die for your right to express it."
The steps ahead
Sen. Honeyford says the state has bigger fish to fry than the same-sex marriage legislation with the current state budget still unresolved.
But supporters say the measure is just as important and concerns civil rights.
According to the Associated Press, if a marriage bill is passed during this legislative session, gay and lesbian couples will be able to marry starting in June, unless opponents follow through on an existing threat to file a referendum to challenge the bill.
Supporters and those opposing the bill are in wait as the measures goes to a Senate floor vote tomorrow (Wednesday).