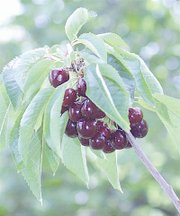 Rain and hail that whipped through the Lower Valley just over a week ago aren't enough to dampen the enthusiasm for this year's cherry crop.
"We're darn lucky to still have a crop," says B.J. Thurlby, president of the Washington State Fruit Commission. "We feel we've really dodged a bullet."
That's not to say there weren't losses - Thurlby noted the example of one Sunnyside grower whose entire crop of Rainiers was ruined due to hail - but by and large the cherry crop is still looking hearty.
That assessment is backed by Grandview cherry grower Don Olmstead, who says the 2012 season is promising to be a "big crop year."
He said the fruit is slightly smaller this year, but that can be attributed to the number of cherries per spur.
The that bloomed this year is up because of good pollination and a lack of frost damage, Olmstead says.
As for water-related damage to cherries, Olmstead notes it depends on how long the cherries are wet. "They can be wet for 12 hours with no damage, but we had nearly 100 percent humidity, so it took nearly 14 hours for the cherries to dry after that first storm."
While moisture caused some cracking, a later storm last week had minimal effect because it was accompanied by wind.
The wind, said Olmstead, dried the fruit.
"It's not how much rainfall, but the length of time the fruit is wet," he says.
Whether it's wind, heat, rain or hail there can be devastating effects on cherry crops - or none at all.
"It can be a total wipeout to nearly nothing and everything in between," said Olmstead.
Crop still expected to be bigger than 2011
In the big picture, cherry growers didn't by and large just survive the storm...most are thriving.
"We were predicting a 21 million box crop, but now it's looking closer to 19 or 20 million," Thurlby says of the five-state region he covers.
That's up from the 18 million boxes last year and double 2009's crop. About 90 percent of the cherry crop comes from Washington state.
He estimates losses of about 5 percent overall, adding the reason it wasn't worse is thanks to a combination of good fortune and good planning.
"The thing that has really changed in the last five or six years is growers have learned to protect the cherries from water," Thurlby says. Examples range from wind to protective covers to organic sprays in staving off water damage. The spray, Thurlby notes, is a calcium compound that helps trees repel water. Cherries, in turn, don't absorb the rain water.
Technology may help keep the cherries dry, but avoiding widespread splitting was also aided by good fortune as the weather cleared with cool temperatures. "You see major splitting when it heats up quickly," Thurlby says.
Recent storms have proven to be fickle, as some growers like Hummingbird Enterprises owner Roger O'Dell of Wapato didn't see hail hit his orchards.
There was rain, though, and O'Dell estimates his weather-related losses are at about 3 percent - just under the overall average of 5 percent noted by Thurlby.
It's important to note, Thurlby adds, that losses depend on the type of cherry, even the type of fruit.
While cherries are the most susceptible to weather damage in the spring, recent storms also had impact on apples.
"I don't think they've figured it out yet," Thurlby says of estimating the amount of apple crop damage. "I thought we had a very nice crop on the trees, but hail has shortened that up a bit."
He says it'll likely be August before apple growers are able to fully assess the damage and its final impact on this year's crop.
As for cherries, while Bings and Rainiers were among the hardest hit by recent rain and hail, Thurlby says later varieties like Lapins, Skeena and Sweetheart have a more promising outlook. "They're going to be fine," he says.
Olmstead says it also helps that Washington state has such a stream-lined chain from producers to market. He notes good crop management is in place because growers and warehouses are well-coordinated.
The bottom line
So how much damage is too much? At what point does weather-related damage make a crop unprofitable to pick?
"Many growers say if they have lost 30 percent of their crop to rain it doesn't become viable to pick," Thurlby says.
So, the 5 percent loss or so means this year's crop is very much worth the wait.
Thurlby says it's too soon to say what the dollar value of that loss is because some market prices are still being established. He estimates the cherry crop will be in the range of $375 million, so a 5 percent loss would be estimated at about $18 to $19 million.
That loss could very well be offset, though, by increased demand.
"Our hope that is that the price is strong," Thurlby says. "Losing a little of the crop means demand should be more."
As for pricing, O'Dell adds that according to his experience fruit-packing warehouses box the fruit in order to sell them for industries in five classifications.
The cherries, depending on their classification, sell for different prices. O'Dell says for example, fruit that is larger in size and fuller in color will sell for a higher price.
In addition, he says, orchardists are likely given a "picking advance" when fruit is delivered to the warehouse, but until the fruit is packed, sold and shipped, the grower won't know exactly what the fruit has sold for, and ultimately what profit the grower has netted.
There are good signs that profits could be up, though.
In fact, there is a sweet side to the sour weather in recent weeks.
Literally, sweeter, as tests by the Washington State Fruit Commission's Yakima office have shown a sampling of this year's Bings have a fruit sugar content of 24 percent. That's well above the 19 or 20 percent that is more typical.
Thurlby says it's thought the cooler spring and longer growing season have helped increase fruit sugar content in this year's cherries.
Higher sugar content means more sweetness and that translates to better taste.
"What we have to have is for mom to go to the grocery store and get a bag of cherries every week," Thurlby says. "We want her to find good flavor, because if mom gets a bad bag she waits two or three weeks before she buys another."