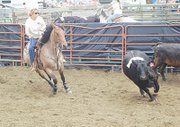 Cowboys and girls from near and far rallied together this past weekend 'for the cause'.
More than 300 teams of two people each came out to this year's Sort 4 the Cause event in Sunnyside.
Last year organizer Tammy Fields says the event brought in more than $15,000 to local charities and this year's team penning event is set to bring in well over that amount. She says, however, the group won't know for another few weeks what the exact total was that locals donated.
The event brought out professional and novice sorters to compete in the event. All proceeds from the event will be donated to Children's Wishes & Dreams, Wellness House and Tri-Cities Cancer Center.
This year the event hosted a "celebrity" class of teams. Fields says the celebrities are merely local officials, business owners and community contributors, such as Yakima County Commissioner Kevin Bouchey, Frank and Pat Beard, and several other local celebs.
Fields says in addition to the more than 600 folks coming out to ride, several area businesses donated time, money and products to help the cause. After Saturday morning's riding events, attendees brought in additional money through a silent and a live auction. In addition to the donations, Sunnyside's Horse Heaven Cattle Feeders and Toppenish Livestock Association donated cattle for the sorting events.
Competitors raced on horseback to get cattle through the gates. Cattle were numbered and ranchers needed to "sort" each one through the gate according to numerical order.
Winning the celebrity class was Gary Aichle. In the open event, Dan Jorgenson and Doneva Vest Brown took first place honors. In the professional amateur class, Kelley Irwin and Andrea Halsey also notched first place honors. Professional novice competitors TJ Heywood and Larry Hauver also placed first in their class.
First place honors in the amateur category went to Tim Larson and Larry Wolf. Amateur novice winners were Jane Bouchey and Tim Larson. Haley Brown and Evan Olinger notched first place honors in the novice class. The green novice first place finishers were Karen Friend and Morgan Pozzi.
Fields says organizers will soon announce the total earnings collected at this past weekend's event, and a check presentation to the local charities is also afoot.