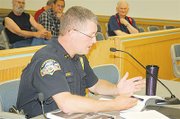 At last night's Sunnyside City Council workshop meeting, the final version of the MGT report, a review of the Sunnyside police department ordered by the city council in the spring of 2011, was presented by Interim City Manager Frank Sweet and Deputy Police Chief Phil Schenck.
Comments from the public about the report will be heard at the Monday, July 23, city council meeting. The report will be made available on the city website at http://sunnyside.org today.
The report, which had been a source of some contention, was updated from the version released in February to the press based on concerns the city and police had with some of the comparisons and mathematics in the original report.
Schenck argued that the updates were not adequate, noting that language from the original report was retained even when it did not match the updated charts.
He also noted that in one case, data was missing for three comparison cities and Sunnyside asked MGT to fix the error. MGT did not fix it in the final report. Schenck said he was able to get the answers from two of the cities in a five-minute phone call, indicating that it would have been an easy fix.
Despite the alleged flaws in the report, Schenck said the recommendations were considered and listed each recommendation along with the police department's response.
During the recitation, council members asked a few questions about specific items and requested more information in several cases. In particular, Councilwoman Theresa Hancock asked that when the report is posted on the city website that it include information on the various acronyms used in the report.
"When we start talking alphabets, it's hard for the average citizen to understand," Hancock said.
Schenck also stated that other recommendations cannot be implemented by the city because it is part of a 48-agency group using the same computer system, and the recommendation called for changing the system.
Several other recommendations cannot be implemented because of budget constraints, according to Schenck.
When asked by Councilman Jim Restucci if he would agree with some recommendations regarding correctional officers if funding wasn't an issue, Schenck replied, "If funding was not an issue I'd like to double this department."
Although the report was originally scheduled to be presented to the public for comments at the Monday, July 9, city council meeting, due to the number of requests for more information by the council the date was moved to Monday, July 23, to give the council more time to review materials.