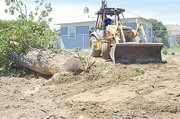 Habitat for Humanity is pounding the pavement, so-to-speak.
The non-profit began the groundwork last week for a new three-bedroom home in Sunnyside. This is the only home this summer that the organization will construct in Sunnyside.
Habitat for Humanity helps local residents enter the world of homeownership by offering them a chance at a low-cost mortgage.
A Sunnyside family, a mother and her children, are ready to help out, along with local and out-of-town volunteers. As part of the program, families are required to invest "sweat equity" during the construction phase of their home. That means they will be on the property helping out with the foundation, construction and painting.
Sunnyside Habitat Store Manager John Aranibar says the family chosen for this home, Maria Ramos and her three daughters, are really proud to have been chosen for this opportunity.
Construction on the home is set to begin Tuesday, July 10, and Habitat for Humanity is still looking for volunteers.
"We won't know how long it will take to (complete construction); it just depends on how many people come out to help," said Habitat for Humanity volunteer Kara Lowe.
The organization is also in the planning stages of building a home in Grandview, according to Aranibar.
For more information on how to get involved with Habitat for Humanity, visit http://www.yakimahabitat.org or call (509) 840-4403.