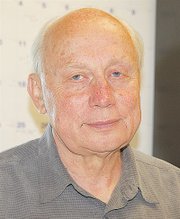 TOPPENISH - Professor Leonard Black of Sunnyside led the Heritage University SIFE team to its ninth consecutive appearance at the national competition this past May and was also inducted into the Sam Walton Fellow Hall of Fame for his accomplishments.
The team attended the 2012 SIFE USA National Exposition in Kansas City as regional champions and came away with a fourth runner-up trophy and a record of seven straight years of reaching the semifinals at the national level, a feat the students credit to Black's efforts in his 11 years at Heritage.
Black is the Chair of Business Administration and Executive Director of Strategic Business Alliances College of Arts and Sciences at Heritage University. After working around the world for major companies, including Coca Cola and Duracell, Black settled in the Yakima Valley and tapped into the potential he saw in the students in the area.
"The students here participate," he said. "They are interested. There is no sense of entitlement. They are willing to work for their goals."
Out of 700 undergrads at Heritage University, 60 are involved in the SIFE club, and they are not limited to business majors. Black credits the students with earning him the Hall of Fame honor.
"They spend a lot of time getting ready," he said. "They are full of passion, full of energy. They believe in what they are doing."
The students, for their part, think Black is being modest.
"He really deserves [the honor]," said Haydee Navarro, president-elect of the SIFE club. "He deserves more."
Black said he really didn't know what he was doing at first. The first year he took the team to the regional competition, it did not go well.
"They told me we gave the worst presentation anyone had ever seen," he said. "The students buckled down and worked out what they needed to do, and we did much better the next year."
In 2006, the Heritage University team took second place in the national competition. The team has reached the final four two other times, in 2007 and 2010. Although they didn't achieve the same heights this year, Black said his students are undaunted.
"They came back and immediately started planning to do better next year," he said.
The SIFE club helps students to develop new skills and to network, said Navarro, a Sunnyside native. Black said he encourages students to join SIFE for selfish reasons.
"I want them to be selfish," he said. "Selfish to develop new skills, selfish to prepare for professional careers."
The competition involves a 24-minute presentation that makes a case that the university's club did a better job developing the tenets of free enterprise than other clubs, according to Navarro. The judges are successful business people, including executives.
Over the last year, Heritage University's SIFE club worked on 35 projects with 43 partners, students in the club contributed more than 16,000 volunteer hours in the process and estimated the project's efforts impacted more than 610,000 people.
The club's 2012 annual report is entitled "The Human Element That Creates Change." It lists the clubs accomplishments over the last year along with some examples of projects the club has worked on.
One of the club's more recent projects involved a community survey in Sunnyside of 4,000 residents. From that survey they found 180 people interested in starting a new business, and are now working with 40 of those to help incubate potential new enterprises.
Black listed many of his students who have had great success after leaving Heritage. He easily named a dozen along with the businesses they now work for and how they got those jobs. He has a clear sense of pride in their achievements.
Black said he's been considering retiring for a couple of years.
"Not until I graduate," interrupted Karina Lara, a sophomore who just finished her first year in the program as a freshman.
"See?" said Black, satisfied. "Selfish."