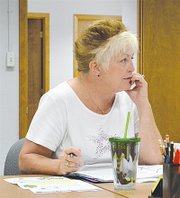 The commissioners for the Port of Sunnyside last night were told the Army Corps of Engineers has awarded the final design contract for the port's 182-acre wetland project to Tetra Tech.
Port of Sunnyside Property Development and Project Manager Jed Crowther provided the update, telling the commissioners the final design is a milestone that will move the project closer to construction.
"Already ranked in the top 5 percent nationwide, the project will not become 'shovel-ready'," he said.
The project's status places the it in a priority position for federal, state and local funding, including a Yakima County Supporting Investments in Economic Development (SIED) loan.
Last night the commissioners approved the terms of a SIED loan in the amount of $500,000.
The loan payments will begin on June 1, 2015 and the agreement will be satisfied on June 1, 2034.
Yakima County, according to the agreement, can at a future date change part or all of the loan into a grant, "...based upon evidence of tangible business expansion or recruitment activity."
Crowther said the Port of Sunnyside has applied for a Washington State Community, Economic Revitalization Board Grant for nearly $987,000, more than $2.4 million from the U.S. Economic Development Association, and National Fish and Wildlife funding for $250,000. The port district also is seeking an opportunity to apply for additional funds from the Washington State Department of Ecology.
The funds will be used for the pipelines to the future wetlands site and on the wetlands project itself.
Commissioner Arnold Martin said, "All the work the staff has been putting into securing grant funding makes a big difference."
He said he is pleased that Crowther and the staff have been seeking funding that will alleviate the port's financial burden.
Also helping the Port of Sunnyside's budget will be the sale of the property on which the Sunnyside School District's Transportation Center sits. It was announced at last night's meeting that the school district has agreed to purchase the property for $365,000.
Crowther told the commissioners some paperwork still needs signatures before the sale will be complete.
Jennie McGhan/Daily Sun News
Port of Sunnyside Director Amber Hansen listens as Commissioners Jim Grubenhoff and Arnold Martin ask her about a recent Sunnyside City Council meeting she attended. At that meeting she requested that the city consider adding the Sheller Road and East Edison Avenue intersections with SR-241 to the six-year Transportation Improvement Program.