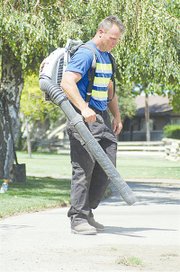 Seal coating is something with which Wesley Fultz is all too familiar.
At the age of 17 he began learning the trade, and did that in the off seasons of winter commercial fishing.
After nearly 20 years of moving all over the state and in Idaho this Sunnyside native has now returned to his roots. And with him are his five children and wife.
Just last week the Fultz family decided to give Black River Seal Coating a go. They started their new family business in a place Fultz is familiar with, Sunnyside. He says it's good to be back home.
After the nearly two-decade hiatus from his hometown, Fultz says Sunnyside hasn't changed much. Lots of sun and long summers are the perfect equation offered by Lower Valley weather for the seal coating business.
Black River Seal Coating specializes in seal coating asphalt, filling in the cracks and the clean-up work of striping and sweeping; basically performing maintenance work for black top parking lots and driveways. Fultz says owners of blacktop surfaces should have the maintenance done every four years to keep the product doing its job.
Fultz says his company uses an armor seal product that is made with a sand-based material and is gas and oil resistant.
"It's not a slick material, it smoothes out the asphalt," he said.
Feeling at home is only the beginning for Fultz, who says he loves getting to spend time with his children on the job. His three sons, Henry, 16, Will, 14, and Marty 11, occasionally help out with the business. In addition, he says his wife does all the bookwork.
"It's a family business," he said.
His eldest son, Henry, says he enjoys working with his dad and the type of work comes as natural to him as it did to his father, who started the trade at about his age.
"It's just second nature to me," he said.
Mr. Fultz said it's a good way to secure a future for his children.
"It would be a good business for my kids to take over when I'm ready to retire," he said.
For more information about the business, contact Fultz at (509) 439-9103.