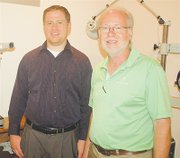 GRANDVIEW - For nearly a quarter of a century, optometrist Fred Boboth has operated his vision clinic in Grandview and last week one of his sons, Everett, joined the practice.
The younger Boboth, a 2003 graduate of Sunnyside High School, started at his father's practice last week after finishing an education that included first EWU and later Pacific Lutheran University in Forest Grove, Ore.
He recently received certification from the state to practice optometry.
Boboth says he knew he was headed in his father's footsteps during undergraduate studies at EWU.
The interest in optometry is in part because of the example set by the elder Boboth.
"As a kid what I liked is that he didn't work absurd hours," Boboth says. "He was home in the evenings and always made it to our baseball games." He adds that a career in optometry is attractive both as a "family friendly" occupation and for its financial security.
More than anything, though, he says it's the ability to help others, providing a medical service to his community.
During internships, Boboth says he was spurred on even more to pursue his career when he worked with several children who didn't have proper eye care when they were younger. "Now they have compromised vision," he says.
Boboth, wife Carrie and year-old daughter Elsie now call Grandview home and like his father - a Grandview Rotarian - the younger Boboth says he plans to get involved in the local community, perhaps working with schools in reaching out to children and youth.
While Everett Boboth is happy pursuing his career at the family clinic, Fred is looking forward to the cooperative effort as well.
Certainly there's the benefit of working with family, but the elder Boboth also says having a newly trained co-worker fresh out of school helps keep him up to date on the latest in eye technology. "It's always great to find the latest instrumentation and procedures," Fred smiles. "It's different than when I was in school."
He adds there's also the practical benefit exchanging second opinions if there's a question as father and son treat their respective patients.
And, it seems that Everett is not the only Boboth to follow in Fred's footsteps.
That's because a younger son, Cole, is also planning to join the practice when he completes his training.
"It's great," Fred says of seeing his sons follow him at the clinic. "It's a dream come true."