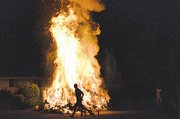 GRANDVIEW - It was a chaotic scene in the 2000 block of Briar Court in Grandview last night just after 10:15 p.m.
Fire erupted in a hedge on the property of one home after a family discharged a few fireworks in the street.
Antonio and Eva Munoz and their children usually don't light fireworks in the neighborhood.
"We usually go to my parents' house," said Mrs. Munoz.
However, the eldest son this year secured a summer job and purchased a few personal fireworks.
The family was enjoying the fireworks when one tipped over and began traveling across the street.
The young Munoz rushed to prevent the firework from reaching its destination. He said he kicked the firework back into the street, but the force of his foot meeting its target sent it soaring toward his own family's property.
The property is lined with evergreen hedges and arborvitae, which quickly ignited.
A neighbor from a nearby street saw the flames and rushed to assist the family. David Swails knocked on the door to the home that was saved from the fireworks and requested the use of that neighbor's hose.
He said he was able to get water on the blaze, but the hedge was highly combustible.
Mrs. Munoz and her son said they didn't water down the hedge earlier in the day and the dry tender underneath fueled the fire.
Swails, however, was able to keep the fire from spreading further until fire crews arrived.
At that time, another neighbor from the small neighborhood took over for Swails.
Alex Cruz kept the water hose aimed at the flames as firefighters added efforts to contain the fire.
Containment was the primary focus of the firefighting efforts because the home sits approximately 15 feet from the hedge, which wraps around the property.
The combined efforts of firefighters from the Grandview Fire Department, Yakima County Fire District #5 and the good Samaritans worked. The potential inferno was contained within 20 minutes, keeping the damage to a small section of the hedge.