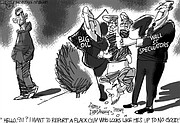 I can remember a time when prices for gasoline were consistently below $1 a gallon.
I'm afraid that means I'm not young anymore, but it does make my reaction to a great buy I got recently seem slightly surreal when I sit and think about it.
Gasoline prices in Toppenish are fairly low, so on a recent trip there I made a point of filling my nearly empty tank at the Safeway in town. The already low prices combined with a lot of credits on our Safeway card resulted in me paying $2.759 per gallon of gas.
Lately $50 hasn't been enough to fill the tank of my car, on that trip I got change from $40. I was so delighted by the savings I took a moment to call my husband and brag.
But when I thought about it for a bit, I realized I would have been appalled at these prices less than a decade ago. As recently as 2005 we consistently paid less than my recent great deal. And while the summer of 2008 still holds the record for all-time highest prices, we've come really close to those prices this year already.
Experts claim the price of gasoline will drop over the summer travel season, but we can probably expect prices to continue to go up overall as demand in other parts of the world grows.
The United States has drilled a lot more oil domestically in the last few years (quadruple the rigs since 2009), but more of it is going to China's increasing demand instead of staying at home to lower our prices.
Out of curiosity, I looked up the historical prices of gasoline adjusted for inflation to see how we compare to the past. To my surprise, we're actually not paying much more for gasoline than people did in 1919. We just had a long time of paying a lot less, so higher prices are a shock.
It's time to adjust our thinking about gasoline. We aren't going to go back to the good old days, so we need to plan for the future. Maybe that means a hybrid or electric car. Maybe that means vehicles run on natural gas (we have a great source of natural gas from dairies locally). Maybe it means we try to drive less. But we can't rely on oil prices to drop again.
So I guess I'll cheer my great deals when they come my way after all, and feel like a geezer when I complain and remember those days of $1 gallons of gas.