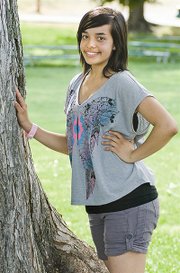 2012-13 Miss Sunnyside candidate Aidee Cisneros will be the first to admit her parents hold strong to tradition, but her personality lends itself to less traditional aspirations.
Cisneros is vying for the Miss Sunnyside title with plans to partner with the Sunnyside Chamber of Commerce.
The aspiring law enforcement officer wants to organize a family-friendly event with the chamber. Cisneros said she would like to provide community members with an opportunity to learn more about Sunnyside via activities and booths that highlight the many attributes of Sunnyside.
"I want them to enjoy themselves," said the Miss Sunnyside candidate, stating she would work with the Sunnyside Chamber of Commerce to find someone willing to teach others about the many types of agriculture in the area. She believes sunshine makes Sunnyside a pleasant place to live and would like to arrange a booth that utilizes the sun as a theme.
"I want children to enjoy activities that help them realize what a great community we have," said Cisneros.
In addition to organizing such an event, she believes the Miss Sunnyside Court could volunteer at the chamber, helping with community events already in place like the annual Lighted Farm Implement Parade.
Admitting she is shy by nature, Cisneros is hoping to gain confidence as a Miss Sunnyside candidate. She said there are many opportunities to meet other people and to build one's self-confidence just serving as a candidate.
"Sunnyside is different from other communities because it is small. There's diversity in industry and businesses...we have agriculture, a variety of shopping opportunities, unique places to eat, fresh produce for healthy lifestyles, parks for families and friends to gather, and a pathway for a casual stroll, running or biking," she said.
That diversity, said Cisneros, is why she enjoys living in Sunnyside and it is why she wants to serve as a representative of the community.
Serving the community is her primary goal in life. Cisneros aspires to attend college to pursue a career in law enforcement, a career that is not traditional for a woman.
"Law enforcement intrigues me because officers must remain healthy, know how to communicate with others and daily face challenges head-on," said Cisneros, stating she also believes law enforcement officers can change the perceptions of the community members they serve.
"I also have a strong desire to answer the questions who, what, when, where, why and how," she said, stating she is curious by nature.
Cisneros said she would like to come back to Sunnyside to work in her chosen field. "Law enforcement is a way to help out my community and the people who need help," she said.
To help others understand more about the community she lives in, Cisneros said she would give visitors a tour of the Sunnyside Museum.
She said there is a lot to learn about Sunnyside and its history. Understanding the community's history, she said, might help individuals appreciate the community and everything that has been achieved throughout the decades.
Cisneros would also like to treat visitors to a meal at Conquistador Restaurant, her favorite local eatery.
She said, "Visitors should have the opportunity to taste authentic Mexican food."
Cisneros said she would also like to provide visitors to the community an opportunity to visit the Sunnyside Community Center.
She said there are many benefits of the programs offered there and she would like people to understand how an organization like Sunnyside's Promise is making a difference in the community.
"The community center is also a place for friends and family to gather together," said Cisneros.
The 2012-13 Miss Sunnyside candidate is the daughter of Ana Toscano and Juan Cisneros. Her pageant sponsors are Les Schwab Tires, La Paleteria Nortena, Integrity Driving School and Pepe's Bakery.
Cisneros is one of 13 young hopefuls vying for the Miss Sunnyside title. The Miss Sunnyside Pageant will be staged on Saturday, Sept. 15, at the Sunnyside High School auditorium.