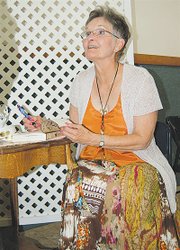 "A lot of women's history was eaten," said author Jane Kirkpatrick during a speech at a tea party hosted by the Ya Ya Bible study group this past Saturday.
"They made food for their families and clothing that wore out," Kirkpatrick said. "They may have had an almanac in which they wrote, 'Bessie had a calf today' or 'The chicken laid an extra egg' but those were thrown out. After all, they were just calendars."
Kirkpatrick specializes in writing about strong women who weren't necessarily famous. And although what she writes is fiction, most of it is firmly based in as much fact as she can find.
She spoke about a character in one of her books, Clearing in the Wild, that is based on a real woman. But Kirkpatrick couldn't find anything written about the woman herself.
"I found information about her father, her husband, her son," she said. "I had to learn about her through the males in her life."
She also wrote her own story in a book, Homestead, about how she and her husband created a home in Oregon on a ranch seven miles from their mailbox and further from a store or neighbor.
Another character whose story she relates is her own grandmother, a photographer in a time when women didn't work in that field.
The award-winning author included her audience in the speech, asking those attending to think about what experience they wanted when they came to the event.
"Did you come here for nurture? The women prepared a wonderful meal," she said. "Did somebody else drag you here? Did you come to make a connection? For wisdom? Or inspiration?"
She then asked what barriers the audience had put in the way of achieving that experience and gave several excuses, such as feeling unworthy of being nurtured, that might make the experience negative for people.
"We find reasons not to have the experience we want to have," she said. "We all have harpies that tell us we can't do it. We need to duct tape the harpies."
She talked about the difficulties she had getting started writing and how she defeated her own harpies. As a result, she gives a voice to women who otherwise would be lost to memory.
"I love to tell stories," she said. "It's what I do."