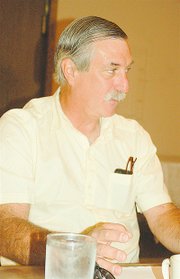 PROSSER - The pesky Spotted Wing Drosophila is arriving six weeks early thanks to a mild spring and the lack of a hard winter freeze.
That's according to Douglas Walsh, coordinator of integrated pest management for WSU's extension center in Prosser.
Yesterday, Thursday, Walsh spoke on that and other pests during the monthly grape fieldman's breakfast in Prosser.
Originating in Southeast Asia, the insect has gradually expanded its reach. Walsh noted he had visitors from Italy who are also now seeing impacts from the Spotted Wing Drosophila.
He says what's troubling about the early arrivals here is that they are young.
Walsh says one sign of hope for local grape growers is that with temperatures expected to climb into the triple digits this weekend it will hamper the insect's ability to mate, as males are weakened by temperatures of 90 degrees and above.
Walsh also touched on Grape Mealybugs, cautioning those in attendance at the breakfast they would be better off with a moderate, rational approach against the pest. He says there is no documented research showing the "nuke'em" method will eliminate the virus that plants experience with the mealybugs.
In other words, while the mealybug population may be corralled, intense chemical applications haven't proven successful in battling the virus they bring with them.
Looking ahead, Walsh says it's a matter of when - not if - the Brown Marmorated Stink Bug arrives in the Yakima Valley
He says it's already been spotted in the Willamette Valley and as far north as Hood River.
Walsh says the stink bug has already caused extensive damage in Oregon and expressed concern it could do the same here. What makes it especially of concern is the insect can be dormant for several years and then suddenly create an outbreak in agricultural areas.
There are no answers yet to the stink bug issue, Walsh notes, but one hope might be to look to insects that prey on the stink bug.
He says the USDA has committed $20 million to research the bug.
"It's going to arrive here," he says of the stink bug. "We just have to hope there's an answer before it does."