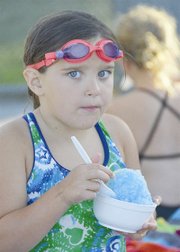 Grandview's Neptunes didn't fare any better the second time around against the Sunnyside Rotary summer swim club. Last night, the host Sharks laid another one on the chin of visiting Grandview, prevailing by a 581.5-220.5 score.
It was nearly the same margin of victory Sunnyside enjoyed the first time, back on June 14, when the two clubs first met this season.
Thursday's victory improved the Sharks' second best Mid-Valley Swim League record to 6-1 on the year. Selah is atop the standings with a perfect 7-0 mark. The two league leaders will face off a second time next Thursday, July 12, in the Sunnyside pool, giving the Sharks an opportunity to avenge their only loss of the summer.
In besting Grandview last night there was a host of Sharks who rose to the surface to get the job done for the eventual winners. None climbed higher on the pedestal, however, than mighty mite Logan Rodriguez.
As has been the case for most of the season, Rodriguez dominated the boys 8&U division. He claimed top honors in all four of the 50-meter races in his age grouping, and by considerable margins. In all four events teammate Myles Newhouse was the runner-up. Rodriguez bested his buddy by 6.43, 14.23, 11.31 and 4.94 seconds in the butterfly, breaststroke, backstroke and freestyle, respectively.
Even more impressive, Rodriguez was given the opportunity last night to swim the 200-meter individual medley, an event that is never scheduled for 8&U swimmers because they rarely can complete a race of that distance without having to stop and hang on to the ropes or are DQ'd.
Allowed to compete against the 10&U athletes, Rodriguez not only finished the 200-meter IM, he won in spectacular fashion. He clocked a time of 4:31.03, well ahead of second-place finishing Nicolas Cortez of Grandview, who registered a time of 4:38.87.
Despite losing to Sunnyside last night and seeing its league record fall to 1-6, Grandview had several swimmers who found success.
Most notably, the Neptunes' boys 14&U competitors came through in a big way. They won both of the relay competitions, and claimed victory in four of the five individual events. David Wacenske picked up two of those wins, in the 50-meter 'fly and 200-meter IM. Grandview teammates Tavian Valenzuela and Maurice Prieto each notched one victory, in the 50-breast and freestyle, respectively. Sunnyside's Adrian Heffron prevented the Neptunes from making it a clean sweep at boys 14&U, though, as the Shark prevailed in the 50-backstroke.
Also having a big night for Grandview was girls 10&U swimmer Brianna Desmarais. She won the 50-meter 'fly, back and free events.
The Neptunes, too, had a three-time winner in Fabian Ruiz, the top finisher at boys 18&U in the 50-butterfly, backstroke and freestyle.
SUNNYSIDE 581.5-GRANDVIEW 220.5
200-METER MEDLEY RELAY
Girls 10&U
1st-Sunnyside (Kameran Rodriguez, Arizona Rodriguez, Bailey Hazzard, Ryen Bonzi) 3:55.43
Boys 10&U
1st-Sunnyside (Levi Newhouse, Robert Clayton, Clay Schilperoort, Alex Alaniz) 4:06.25
Girls 12&U
1st-Sunnyside (Ashlee Maldonado, Jolissa Mendoza, Brielle Newhouse, Emily Banks) 2:58.93
Boys 12&U
1st-Sunnyside (Jace Ziegler, Parker Van de Graaf, Izaiah Gonzalez, Johnny Heffron) 3:17.59
Girls 14&U
1st-Sunnyside (Lindsay Schilperoort, Kalie Bestebreur, Katelyn Banks, Aydan Harrington) 2:41.02
Boys 14&U
1st-Grandview (Tavian Valenzuela, David Wacenske, Maurice Prieto, Micah Binfet) 2:45.04
Girls 18&U
1st-Sunnyside (Brittany Broersma, Marisa Broersma, Payton Sample, Tara Van Corbach) 2:29.56
Boys 18&U
1st-Sunnyside (Christopher Martin, Alex Perez, Nate Scheenstra, Giovanni Rodriguez) 2:20.64
50-METER BUTTERFLY
Girls 8&U
1st-Elissa Hill (S) 1:20.49, 2nd-Jessamyn Hellner-Gomez (G) 1:26.05, 3rd-Tayler Bonzi (S) 1:30.71, 4th-Lillian Campos (S) 2:02.89
Boys 8&U
1st-Logan Rodriguez (S) 1:01.70, 2nd-Myles Newhouse (S) 1:08.13, 3rd- Cesar Vargas (S) 1:19.07, 4th-Joaquin Cortez (G) 1:26.57
Girls 10&U
1st-Brianna Desmarais (G) 47.66, 2nd-Bailey Hazzard (S) 1:02.50, 3rd-Kameran Rodriguez (S) 1:07.12, 4th-Jordan Colson (G) 1:07.20
Boys 10&U
1st-Clay Schilperoort (S) 58.62, 2nd-Angel Morales (G) 1:10.56, 3rd-Clayton Robert (S) 1:11.49, 4th-Jaxson Lakins (G) 1:13.27
Girls 12&U
1st-Ashlee Maldonado (S) 41.61, 2nd-Jolissa Mendoza (S) 41.98, 3rd-Jessica Scheenstra (S) 45.55, 4th- Emily Banks (S) 46.97
Boys 12&U
1st-Parker Van de Graaf (S) 44.33, 2nd-Nathaniel Gutierrez (G) 44.58, 3rd-Johnny Heffron (S) 1:03.88, 4th-(tie) Izaiah Gonzalez (S), Westly Lakins (G) 1:07.10
Girls 14&U
1st-Aydan Harrington (S) 35.67, 2nd-Katelyn Banks (S) 35.95, 3rd-Lindsay Schilperoort (S) 42.21, 4th-Aidan Hudgens (S) 42.81
Boys 14&U
1st-David Wacenske (G) 37.65, 2nd-Adrian Heffron (S) 42.88, 3rd-Maurice Prieto (G) 42.90, 4th-Luis Valdez (G) 44.34
Girls 16&U
1st-Brittany Broersma (S) 33.52, 2nd-Payton Sample (S) 38.78, 3rd-Madi Marquez (S) 42.67, 4th-Aaliyah Fonseca (G) 48.84
Boys 16&U
1st-Alex Perez (S) 33.51, 2nd-Nate Scheenstra (S) 36.12, 3rd-Christopher Martin (S) 41.00, 4th-Dameon Garza (G) 41.40
Girls 18&U
1st-Marisa Broersma (S) 34.71, 2nd-Tara Van Corbach (S) 34.99, 3rd-Samanta Castaneda (G) 36.91, 4th-Alexandra Newhouse (S) 38.89
Boys 18&U
1st-Fabian Ruiz (G) 31.37, 2nd-Giovanni Rodriguez (S) 31.47, 3rd-Eric Escobar (G) 41.40
50-METER BREASTSTROKE
Girls 8&U
1st-Daniella Duran (S) 1:23.09, 2nd-Elissa Hill (S) 1:23.14, 3rd-Jessamyn Hellner-Gomez (G) 1:30.17, 4th-Lillian Campos (S) 2:02.73
Boys 8&U
1st-Logan Rodriguez (S) 1:15.24, 2nd-Myles Newhouse (S) 1:29.47, 3rd-Chase Yanez (S) 1:36.15, 4th-Riley Pasicaran (S) 1:40.29
Girls 10&U
1st-Bailey Hazzard (S) 55.54, 2nd-Brianna Desmarais (G) 57.17, 3rd-Arizona Rodriguez (S) 58.98, 4th-Kameran Rodriguez (S) 1:01.22
Boys 10&U
1st-Luke Cortez (G) 53.97, 2nd-Clayton Robert (S) 1:00.34, 3rd-Clay Schilperoort (S) 1:05.34, 4th-Angel Morales (G) 1:10.31
Girls 12&U
1st-Brielle Newhouse (S) 48.09, 2nd-Esmi Cerda (S) 50.58, 3rd-Kylie Colson (G) 51.58, 4th-Emily Banks (S) 51.87
Boys 12&U
1st-Johnny Heffron (S) 52.35, 2nd-Parker Van de Graaf (S) 52.57, 3rd-Jace Ziegler (S) 54.66, 4th-Nathaniel Gutierrez (G) 1:02.62
Girls 14&U
1st-Katelyn Banks (S) 45.60, 2nd-Kalie Bestebreur (S) 46.02, 3rd-Aydan Harrington (S) 46.75, 4th-Reagan Colson (G) 48.40
Boys 14&U
1st-Tavian Valenzuela (G) 42.50, 2nd-David Wacenske (G) 45.52, 3rd-Adrian Heffron (S) 46.52, 4th-Mathew Marquez (S) 46.73
Girls 16&U
1st-Brittany Broersma (S) 40.80, 2nd-Payton Sample (S) 48.31, 3rd-Madi Marquez (S) 50.64, 4th-Joselina Wacenske (G) 51.74
Boys 16&U
1st-Alex Perez (S) 41.26, 2nd-Brendon Lynch-McGhan (G) 44.37, 3rd-Dameon Garza (G) 46.90, 4th-Nate Scheenstra (S) 48.78
Girls 18&U
1st-Marisa Broersma (S) 39.61, 2nd-Tawnya Francis (G) 46.95, 3rd-Alexandra Newhouse (S) 48.05, 4th-Tara Van Corbach (S) 48.10
Boys 18&U
1st-Giovanni Rodriguez (S) 37.27, 2nd-Fabian Ruiz (G) 41.90, 3rd-Eric Escobar (G) 52.98
50-METER BACKSTROKE
Girls 8&U
1st-Daniella Duran (S) 1:03.34, 2nd-Jessamyn Hellner-Gomez (G) 1:11.59, 3rd-Elissa Hill (S) 1:19.31, 4th-Tayler Bonzi (S) 1:20.51
Boys 8&U
1st-Logan Rodriguez (S) 1:02.78, 2nd-Myles Newhouse (S) 1:14.09, 3rd-Cesar Vargas (S) 1:14.56, 4th-Cannon Hauver (S) 1:19.77
Girls 10&U
1st-Brianna Desmarais (G) 53.27, 2nd-Bailey Hazzard (S) 1:02.17, 3rd-Kameran Rodriguez (S) 1:03.19, 4th-Ryen Bonzi (S) 1:03.65
Boys 10&U
1st-Clay Schilperoort (S) 51.40, 2nd-Patrick Gallagher (S) 1:01.67, 3rd-Angel Morales (G) 1:06.36, 4th-Nicolas Cortez (G) 1:07.28
Girls 12&U
1st-Jolissa Mendoza (S) 44.53, 2nd-Emily Banks (S) 46.67, 3rd-Kylah Bunch (S) 47.62, 4th-Ashlee Maldonado (S) 47.68
Boys 12&U
1st-Nathaniel Gutierrez (G) 47.56, 2nd-Parker Van de Graaf (S) 55.33, 3rd-Izaiah Gonzalez (S) 58.49, 4th-Johnny Heffron (S)1:01.00
Girls 14&U
1st-Lindsay Schilperoort (S) 39.38, 2nd-Aydan Harrington (S) 41.39, 3rd-Kalie Bestebreur (S) 41.85, 4th-Aidan Hudgens (S) 43.90
Boys 14&U
1st-Adrian Heffron (S) 41.53, 2nd-Mathew Marquez (S) 46.77, 3rd-Maurice Prieto (G) 48.13, 4th-Michael Gallagher (S) 48.59
Girls 16&U
1st-Brittany Broersma (S) 38.70, 2nd-Payton Sample (S) 43.63, 3rd-Madi Marquez (S) 45.53, 4th-Joselina Wacenske (G) 59.29
Boys 16&U
1st-Christopher Martin (S) 36.84, 2nd-Alex Perez (S) 40.32, 3rd-Nate Scheenstra (S) 44.13, 4th-Brendon Lynch-McGhan (G) 46.32
Girls 18&U
1st-Marisa Broersma (S) 39.36, 2nd-Samanta Castaneda (G) 43.37, 3rd-Jessica Morales (G) 44.05, 4th-Alexandra Newhouse (S) 46.46
Boys 18&U
1st-Fabian Ruiz (G) 40.17, 2nd-Giovanni Rodriguez (S) 41.47, 3rd-Eric Escobar (G) 45.33
50-METER FREESTYLE
Girls 8&U
1st-Daniella Duran (S) 57.16, 2nd-Elissa Hill (S) 1:02.37, 3rd-Jessamyn Hellner-Gomez (G) 1:04.01, 4th-Tayler Bonzi (S) 1:19.46
Boys 8&U
1st-Logan Rodriguez (S) 49.82, 2nd-Myles Newhouse (S) 54.76, 3rd-Chase Yanez (S) 1:09.49, 4th-Cesar Vargas (S) 1:11.73
Girls 10&U
1st-Brianna Desmarais (G) 40.49, 2nd-Ryen Bonzi (S) 49.74, 3rd-Arizona Rodriguez (S) 49.87, 4th-Kameran Rodriguez (S) 50.48
Boys 10&U
1st-Angel Morales (G) 47.18, 2nd-Nicolas Cortez (G) 51.89, 3rd-Clayton Robert (S) 54.33, 4th-Levi Newhouse (S) 58.37
Girls 12&U
1st-Jolissa Mendoza (S) 35.81, 2nd-Ashlee Maldonado (S) 36.97, 3rd-Emily Banks (S) 37.99, 4th-Esmi Cerda (S) 39.47
Boys 12&U
1st-Parker Van de Graaf (S) 38.58, 2nd-Nathaniel Gutierrez (G) 38.99, 3rd- Andrew Gallagher (S) 43.49, 4th-Johnny Heffron (S) 48.21
Girls 14&U
1st-Katelyn Banks (S) 34.37, 2nd-Aidan Hudgens (S) 34.86, 3rd-Taylor Ebbelaar (G) 35.07, 4th-Aydan Harrington (S) 35.09
Boys 14&U
1st-Maurice Prieto (G) 32.07, 2nd-Adrian Heffron (S) 32.99, 3rd-David Wacenske (G) 33.67, 4th-Baeley Febus (G) 34.54
Girls 16&U
1st-Brittany Broersma (S) 31.29, 2nd-Payton Sample (S) 33.80, 3rd-Madi Marquez (S) 35.65, 4th-Joselina Wacenske (G) 45.95
Boys 16&U
1st-Alex Perez (S) 29.30, 2nd-Nate Scheenstra (S) 29.85, 3rd-Christopher Martin (S) 32.51, 4th-Dameon Garza (G) 33.26
Girls 18&U
1st-Marisa Broersma (S) 31.75, 2nd-Samanta Castaneda (G) 33.30, 3rd-Tara Van Corbach (S) 33.73, 4th-Jessica Morales (G) 36.63
Boys 18&U
1st-Fabian Ruiz (G) 27.41, 2nd-Giovanni Rodriguez (S) 29.45, 3rd-Eric Escobar (G) 35.91
200-METER FREESTYLE RELAY
Girls 10&U
1st-Sunnyside (Aysiah Garza, Arizona Rodriguez, Kameran Rodriguez, Ryen Bonzi) 3:33.14
Boys 10&U
1st-Sunnyside (Clayton Robert, Alex Alaniz, Clay Schilperoort, Levi Newhouse) 3:52.51
Girls 12&U
1st-Sunnyside (Jolissa Mendoza, Esmi Cerda, Ashlee Maldonado, Emily Banks) 2:43.71
Boys 12&U
No race
Girls 14&U
1st-Sunnyside (Katelyn Banks, Aydan Harrington, Ashley Davis, Aidan Hudgens) 2:27.96
Boys 14&U
1st-Grandview (Tavian Valenzuela, Maurice Prieto, David Wacenske, Luis Valdez) 2:21.89
Girls 18&U
1st-Sunnyside (Marisa Broersma, Brittany Broersma, Payton Sample, Tara Van Corbach) 2:16.12
Boys 18&U
1st-Sunnyside (Nate Scheenstra, Giovanni Rodriguez, Alex Perez, Christopher Martin) 2:08.89
200-METER INDIVIDUAL MEDLEY
Girls 10&U
1st-Kameran Rodriguez (S) 4:15.90, 2nd-Bailey Hazzard (S) 4:43.84, 3rd-Lala Campos (S) 5:09.69, 4th-Ryen Bonzi (S) 5:38.43
Boys 10&U
1st-Logan Rodriguez (S) 4:31.03, 2nd-Nicolas Cortez (G) 4:38.87, 3rd-Angel Morales (G) 4:57.14, 4th-Clayton Robert (S) 5:11.68
Girls 12&U
1st-Emily Banks (S) 3:42.28, 2nd-Cassandra Ruiz (G) 4:08.19, 3rd-Brielle Newhouse (S) 4:09.58, 4th-Lia Anderson (S) 4:13.69
Boys 12&U
1st-Parker Van de Graaf (S) 4:10.32, 2nd-Johnny Heffron (S) 4:16.72, 3rd-Westly Lakins (G) 5:06.89, 4th-Jonathan Flores (G) 5:34.48
Girls 14&U
1st-Katelyn Banks (S) 3:12.55, 2nd-Aidan Hudgens (S) 3:45.13, 3rd-Viannei Perez (G) 3:59.94, 4th-Jessica Linde (S) 4:17.66
Boys 14&U
1st-David Wacenske (G) 3:33.23, 2nd-Mathew Marquez (S) 3:33.33, 3rd-Adrian Heffron (S) 3:36.98, 4th-Tavian Valenzuela (G) 3:37.80
Girls 16&U
1st- Joselina Wacenske (G) 4:15.89
Boys 16&U
1st-Alex Perez (S) 3:07.53, 2nd-Nate Scheenstra (S) 3:21.07, 3rd-Christopher Martin (S) 3:37.74, 4th-Brendon Lynch-McGhan (G) 3:39.47
Girls 18&U
1st-Jessica Morales (G) 3:34.18, 2nd-Tawnya Francis (G) 3:47.22