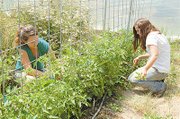 "Permaculture is more than just organic," said Merritt Mitchell-Wajeeh. "It's a model of biodiversity, about creating diversity from the soil up."
Mitchell-Wajeeh, owner of Heavenly Hills Harvest Permaculture Farm and Education Center near Sunnyside, will be offering a children's summer camp this year that will focus on both farming and science, including the concept of permaculture.
Children ages six to 12 can attend the one-week Children's Summer Farm and Nature Day Camp to spend a week learning how to be farmers by planting, harvesting and learning how to prepare the harvest to make farm-style lunches.
In addition to farming, campers will also learn about science with activities such as map making, bird watching, animal tracking and mineral identification. The days will be capped by afternoon homemade ice cream socials.
Mitchell-Wajeeh has a Master's degree in environmental science education and experience in teaching children and adults. She has been running a Community Supported Agriculture Program from the farm for four years, supplying organic vegetables and fruit to local consumers. The idea for a camp came from her customers.
"People have been asking me for a long time to do something like (the camp)," she said. "Kids who visit the farm love to pull up carrots and see where their food comes from. We're going to try it out and see how it goes this year."
The camp will have two sessions. One will start on Monday, July 23, and end on Friday, July 27, and the science portion of the camp will have a biology theme. The second camp will start Monday, July 30, and end Friday, Aug. 3, and will have a geology theme.
Mitchell-Wajeeh plans to have an extended day on Friday of the camp sessions, with an evening cookout and fireside activities that will include other family members of the campers.
The camp will utilize most of the 100-acre farm, including a mile of land fronting the Yakima River, where science activities will be conducted.
"We have 10 acres down there that we call the 100-acre wood, just because it's so magical," said Mitchell-Wajeeh.
The camp is part of the overall goal of the farm to educate people on sustainable agricultural practices. It also may help some parents with picky eaters. Mitchell-Wajeeh believes more children would enjoy vegetables if they got them fresh.
"I had one of my customers tell me that she couldn't even get the kale home before her kids would eat it," said Mitchell-Wajeeh.
More information about the camp can be found on the farm's website at heavenlyhillsharvest.com or by calling the farm at 509-840-5600.