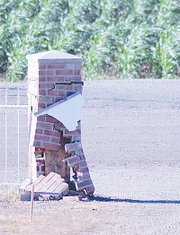 MABTON - As early back as January of this year the Mabton Cemetery has displayed a damaged brick pillar in the entryway to the grounds.
"That should have been fixed before Memorial Day," said Mabton resident Marshall Dawson, who is part of the local cemetery committee.
Dawson says there are several issues with the city's cemetery, many due to vandals or vehicle accidents. He also says youngsters use the cemetery as a place for late-night "prohibited" activities.
Mabton Mayor Angel Reyna says Dawson informed him of the issues and has the city clerk looking into what the city's insurance provider will cover to help fix the issues. City Clerk Ret Stewart also said she's pulled the police reports for some of the incidents, to give over to the insurance company.
She also told community members at last Tuesday's city council meeting to be patient.
"We don't have a lot of money coming in," she said.
Dawson says in addition to the smashed pillar, there is a cement bench missing, and dents in the fencing lining the cemetery. He also says the sprinkler system needs to be looked into.
Reyna assured citizens attending last week's meeting that the issues were being looked into and the city is doing everything it can to remedy the broken fixtures at the local cemetery.