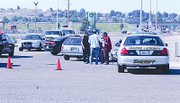 Yakima County Sheriff deputies responded last Friday afternoon to an accident reported at the intersection of Midvale and Alexander Roads near Sunnyside. A motorcycle and another vehicle collided. The motorcycle rider was taken to Sunnyside Community Hospital.
A suicide was reported to deputies last Friday afternoon near Mabton.
Yesterday evening (Sunday) a father reported his son had stolen his car. Deputies determined the report was unfounded.
Also since last Friday morning, deputies have handled two automatic alarms, four reports of domestic violence, one report of fireworks, a report of harassment, a report of unattended children and two reports of animal problems.
Deputies also provided two agency assists since last Friday morning.