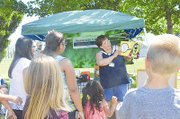 It was a couple of sun-soaked hours at Sunnyview Park near Sunnyside this past Sunday. But the time spent there was worth battling the heat for several fathers and their children, bonding during the second 'Almighty Dads Day' hosted by Family Connections Yakima Valley.
Fathers like Luke Cussins of Mabton enjoyed traveling to the local park to spend time with their children.
Cussins said he enjoyed watching his son Noah explore the monkey bridge set up by Boy Scouts troops 632 and 643.
Tim Bardell, scout leader, said events like Almighty Dads Day give organizations the opportunity to teach youngsters and their parents about scouting.
Dianne Forrest and her husband provided crafting activities for the youngsters to enjoy with their fathers.
"I provide the 'rock contagion'," she laughed, stating painting rocks together gives the fathers an opportunity to be creative with their children.
Her husband helped the youngsters and their fathers learn how to cut tiles for another project. They used a tile cutter for the project.
A representative of Neighborhood Church's Royal Rangers manned a station where the fathers and children could set up a tent. The activity was a timed contest. The family with the fastest time won a tent.
Sunnyside Librarian Marcelina Ortega was present at the event, sharing stories with the children and fathers. She also had fathers take turns reading stories to the youngsters.
"I like getting fathers engaged with the youngsters. They can learn about the library services and the more reserved fathers can break out of their shells through books," she said.
Also providing opportunities for those attending the Almighty Dads Day event were representatives from the Sunnyside Police Explorers, Grandview Church of the Nazarene and firefighters from Sunnyside and Grandview.
Rose Marie Wrung of Family Connections Yakima Valley said she was pleased with how much everyone was enjoying themselves.
Humberto Rodriguez helped Wrung organize the event and agreed with her, stating the turnout wasn't as high as he would have liked. He believes the heat and other summer activities may have kept a few away from the park.
"But we all had fun," he said just before the firefighters pulled a fire truck up to unleash a spray of water on those wishing to cool down.