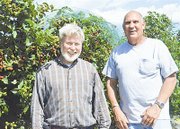 Looking for fresh berries? Want something tasty like blackberry cobbler?
Look no further than Blackberries Jubilee, located at 600 Arrowsmith Road, near Sunnyside.
The local blackberry farm spans approximately half an acre and the two families that own the farm have grown three varieties of very large, plump berries for the enjoyment of anyone who likes fresh fruit.
Michael Sharpe, his wife Melissa, and Tim and Ann Bardell last year harvested their first crop of blackberries.
This year's crop is even more abundant because the weather is favorable, according to Mr. Sharpe.
He said Blackberries Jubilee is focused on providing Yakima Valley residents with a local u-pick operation.
"The berries are full of fiber," he said, stating blackberries are a super fruit, promoting healthy living.
In addition to the u-pick operation, Mrs. Bardell takes a large shipment to two farmers markets, in Richland and Prosser.
"Last year Tucker Cellars used our blackberries for a Kiowa Cabernet. The wine was their Black Cab," said Mr. Sharpe.
He said Blackberries Jubilee also receives orders from Rosauers markets.
The first variety of blackberries ready for harvest is the Naches, which Blackberries Jubilee began harvesting last week.
The mid-season crop is known as Apache, and the largest of the berries, the Kiowas, will be ready for harvest next month.
"Kiowas are known to be the sweetest of the three varieties, but they are all super sweet," said Sharpe.
He began growing blackberries at his home a few years ago. Sharpe said the small crop he initially grew was inspired by summer mornings growing up in Tennessee.
"Blackberries don't take long to produce and they do really well in the Yakima Valley climate," said Sharpe, stating the valley is a much drier climate than Oregon.
Oregon, he said, has problems with pests and mildew. So, the crop he grows is nearly equivalent to the crop of that entire state.
"We can grow our berries pesticide free...the only pests we deal with are the rats with feathers, also known as birds," Sharpe laughed.
Growing berries is not for the faint of heart, however. Sharpe said it is labor intensive because blackberries ripen at all times of the day, every day.
"After the heat I hope to have people show up in droves because there will be so many berries ready for picking," Sharpe said, stating it is sometimes difficult to keep up with the harvest.
He said the Naches and the Apache berries can grow up to two inches in length. It takes approximately 44 Naches berries to make up a pound and approximately 40 Apache berries. The Kiowa can grow as big as 3-1/2 inches long.
"About 28 Kiowas will make a pound," said Sharpe, stating the u-pick price is $3 per pound.
He said Blackberries Jubilee will pick the berries and store them in clamshells for $4 per pound.
Blackberries Jubilee is open for those wanting to pick berries Monday through Thursday from 7 a.m. to 8 p.m. Saturdays the location is open from 3 to 8 p.m.
The location is open Fridays and Sundays by appointment only by calling 837-2185 or 830-0689.
"I think Yakima Valley residents just have to get used to having u-pick operations available, but we are doing well," said Sharpe.