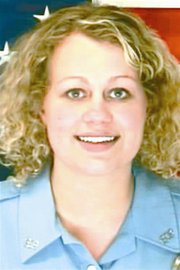 After serving at the Sunnyside Police Department for seven years, Charlotte Hinderlider has been fired, according to Interim City Manager Frank Sweet.
She had worked for the department since June 3, 2005, but Sweet is remaining tight-lipped about her termination. He said city attorneys have advised him not to comment on the matter.
Serving as the administrative assistant to the Sunnyside police chief, Hinderlider was a familiar face in the community. She organized several community events, including National Night Out and public safety days.
She was also known to some as the local media contact, having served as a spokesperson for both the television and print media.
That, according to the MGT report released earlier this year, was a concern.
"The concerns stemmed from confusion about whether the administrative assistant was responsible for supervising uniformed officers, as well as acting as the police department's public information officer," the MGT study's analysts wrote in the report, which detailed the operations of the local police department. The authors of the MGT study, which was commissioned by the Sunnyside City Council at a cost of about $50,000, also stated that city management, city council members and police department staff were confused about Hinderlider's role.
"It was their belief that the position was not intended to have those specific responsibilities," the report noted.
The MGT report further explained that Hinderlider's job description did not include responsibility for supervising staff, "...certainly not uniformed officers," nor responsibility to function as the public information officer.
It did state certain language within the job description could be "...broadly interpreted to imply that the administrative assistant could function in some supervisory capacity and as a public information officer."
Coincidentally, the city council held its first formal discussion about the MGT report at last week's workshop meeting. The council is tentatively scheduled to address the MGT study in an open public meeting, where public comments are allowed, at its next regularly scheduled meeting on Monday, July 23.
Sweet and Deputy Police Chief Phil Schenck are both refusing to comment about Hinderlider's dismissal.
Schenck said, "I will not comment on this."
Sweet would only confirm Hinderlider was terminated on June 27 and will not receive severance pay.
When asked if he could provide a reason for her termination, he said, "Not at this time."
It was confirmed, however, Hinderlider requested medical leave to begin on the date she was fired.
She would not comment, only stating she has an attorney with whom she would have to confer.