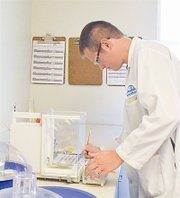 Port of Sunnyside Lead Lab Analyst John Van Wingerden always wanted to return to the Lower Valley after graduating college.
He knew there were a lot of opportunities to use his degree in chemistry, but never envisioned working for the Port of Sunnyside.
"I wanted to give back to the community I grew up in...I see a beauty here that outweighs the negativity some perceive to be here," said Van Wingerden, speaking of his hometown.
He admitted not a lot of Sunnyside natives his age choose to return home after graduating from college, but he said there is much more to appreciate that his peers overlook.
"Also, my family is here and family is very important," said Van Wingerden.
When he graduated from Washington State University, degree in hand, Van Wingerden said he began looking at the many opportunities there were for chemists in the Lower Yakima Valley.
It was a position with the Port of Sunnyside that he was able to secure, not knowing much about the operations of a wastewater treatment facility.
"I soon realized it is an intriguing career," said Van Wingerden, who has worked in the lab of the port's wastewater treatment facility for four years and was recently promoted to the lead position when Kathy Lathen moved to Texas.
"When people think of wastewater treatment, they think of the waste going in and water coming out. However, there's a lot of biology involved in the treatment process," he said.
Van Wingerden said his experience in analytical chemistry was limited because he only had one class that addressed the area. He said most of his chemistry classes were like those the public often envisions, research based chemistry.
Van Wingerden is passionate about what he does as a lab analyst for the Port of Sunnyside. He said his knowledge of chemistry is important for ensuring the water treated at the wastewater treatment plant is properly analyzed through a variety of tests completed during the treatment process.
"The port's plant is unique...most plants test between five and 10 times to report to the Department of Ecology, but this lab tests industry water and helps the industries with their reporting," he said, stating each industry must comply with a wastewater discharge permit.
The testing the Port of Sunnyside completes for local industries, said Van Wingerden, is important for self-sustainability.
"As a result we must hold to stricter guidelines...the goal is to follow the guidelines of a commercial lab as closely as possible so we can defend the results," he said, stating the Port of Sunnyside is accountable to state and federal authorities as well as to the public.
On top of the 200 tests for accountability, Van Wingerden and the staff in the Port of Sunnyside's lab analyze 1,000 water samples from industries each month.
"There's a great learning curve for employees of the Port of Sunnyside," said Van Wingerden.
"Basically, we aren't a stereotypical wastewater lab," he said.