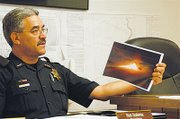 MABTON - This past Fourth of July festivities has some Mabton residents still steaming.
This year marked the first time the city required permits to light off fireworks, at the cost of $25.
But some residents, like Johnnie Gusby, were upset that neighbors who didn't purchase the permit weren't reprimanded.
"What good is an ordinance if it's not enforced," Gusby asked.
Mayor Angel Reyna said the main purpose was for safety, and to diminish the amount of outsiders coming in to Mabton. But because of the poor communication to Mabton residents, the Mayor instructed officers to cite residents as a secondary offense.
"If things got out of hand, and the person didn't have a permit, then they'd also get hit with that fine," Reyna said.
Reyna and council members apologized for the poor communication, and said it's a learning process.
"It wasn't perfect, and we know that," he said. "We are learning."
Councilman Mario Martinez agreed with Gusby, saying, "I would like to see it enforced more."
Officers reported they responded to several calls during the Fourth festivities, and noticed many children unsupervised around dangerous fireworks. Police Chief Rick Gutierrez says there wasn't time to cite nearly 2,000 people, and keep the citizens safe.
With limited police officers, Gutierrez said, "What would you rather us do?"
Gusby suggested in the years to come, officers could issue citations through the mail, and take photos for evidence.
Gutierrez recommended, again, a city sponsored event, where residents were contained to lighting off their fireworks in one area of the city.
He also said some local residents called officers, taunting them.
"They said 'I'm not going to get a permit; come and get me'," he said.
Councilwoman Vera Zavala said the council has much to do in the coming months to remedy the issue.
"We have to do a lot of research in the next few months," she said.
Zavala volunteered to spearhead a committee, and get community feedback to bring back to the council for consideration.
City Attorney Phil Lamb says he will also research what kind of amendments the council can make to the current fireworks ordinance.
The council is set to discuss the issue at the coming council meetings.