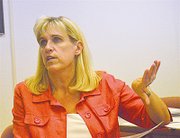 MABTON - Although the Mabton School District's proposed budget has the schools spending approximately $200,000 less in the coming 2012-13 school year than this past year, Finance Director Gina Grow last night told the school board more budget cuts are needed to eliminate a projected deficit of nearly $770,000.
The Mabton School District projects its revenues at just under $9.9 million, but the expenditures are projected to reach just more than $10.5 million.
Grow said there are three funding sources for the Mabton School District, including local, state and federal dollars.
For the Wednesday budget workshop she lined out the proposed budget in three categories - revenue, expenditures and subsidies.
"Revenues are tied to expenditures," said Grow, stating much of the district's revenues are allocated to specific programs.
"Sometimes allocations change and we have to use our best estimate," she told the school board.
An example of an expenditure that doesn't have a revenue source, however, is the traffic safety program. The Mabton School District provides half the cost of driver's education for students, but there are no funds provided by the local, state or federal funding sources for the program.
The schools and different departments within the district have also been working toward cutting budgets where possible.
Grow said the transportation department has changed the way students riding buses are counted. "So, we are hoping to receive more funding," she said, stating transportation is not fully funded by the state and the school district has to make up the difference.
"The district must look at how it might compensate for overspending," said Grow.
School Board Director Jeanette Williams asked about vocational education expenditures and revenues, which accounts for more than $383,000.
"I don't see a revenue source," she said.
Grow told the school board certain programs are not specifically targeted by a revenue source at the state level. As a result, the revenue for the program is not directly identified in the budget.
She said the school district is faring better because of a recently passed levy. "We maximized our funding."
Grow said some funding, however was lost because the district's enrollment numbers are down.
Also, the district lost some migrant student funding and federal funding it received for Native American enrollment numbers.
"Although the GEAR UP funding will drop some, it's anticipated Mabton will have some carry-over from last year," said Grow.
"I'm tightening up the budget...I have made some helpful adjustments, but didn't make as big of a dent as I had hoped," she said.
Some of the budgetary adjustments made include not adopting a new curriculum, not filling vacant teaching positions, eliminating the school resource officer position, cutting field trips for the middle and high schools, reducing the hours the school nurse works and leaving open a transportation department staff position.
Grow said the open teacher's positions were an interventionist and an English teacher at the high school.
She said enrollment numbers are specifically lower at the high school, providing opportunities to reduce staffing levels there.
"We can address overstaffing issues (leaving positions vacant)," said Grow.
She said the field trip funding was not being used. As a result, there wasn't a need to include funding in the 2012-13 budget.
"We are making the deficit more reasonable," said Grow, stating other budget cuts can be discussed by the school board.
She had a few suggestions, including cutting two C squad coaching positions, reducing the number of days the five district secretaries work and re-evaluating a couple of positions for pre-school programs.
Superintendent Minerva Morales said, "No cuts are official...all are up for discussion."
Williams said she believes some of the cuts are reasonable and agreed there are other possibilities to be considered.
"Everyone knows these are tough times," she said.
Williams said the school board might even consider cutting the traffic safety assistance program.
"It might be time to let go," she said, noting other schools do not provide funding for driver's education.
Grow said, "It's all about different choices."