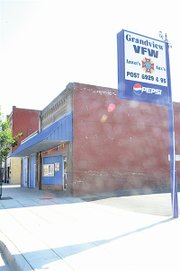 GRANDVIEW - Just more than a year ago Grandview VFW post members taking over as officers didn't know what they were walking into.
They quickly learned the post was deeply in debt, particularly to the Washington State Department of Revenue.
That's according to Jerry Riggs, who recently resigned as senior vice commander, and Jim Caskey, who served unofficially as junior vice commander and quartermaster.
The two said membership numbers have dropped significantly during the past several years as veterans from WWII, Korea and Vietnam have died. And, younger veterans haven't been interested in joining the VFW.
Caskey said the taxes hadn't been paid since 2005 and the six members wanted to salvage the VFW post.
Unfortunately things turned from bad to worse this past March. That's when the post lost its business license and could no longer keep its bar open.
"We couldn't generate any revenue...we couldn't fundraise," said Riggs.
He said losing the business license placed the post in a tailspin and three employees lost their jobs as a result of the situation.
"We couldn't do anything," Riggs lamented.
The men said they contacted Solarity Credit Union in Yakima, which holds the post's mortgage on its building.
Caskey said, "We asked them to start foreclosure proceedings."
Riggs said the members began liquidating assets so the VFW post's artifacts could be saved and not seized by the state.
Riggs and Caskey said a representative of the credit union whom the pair know as "Ron" has been working closely with them.
"He's encouraging us to try and sell the property," said Caskey.
Riggs said there are just five Grandview VFW members remaining and the group must meet to discuss the benefits of selling the post's building, which is located on Division Street.
"We can come out ahead if we can sell the building," he said.
The pair said the Grandview VFW members will continue to serve in the Lower Yakima Valley Honor Guard, the women's auxiliary continues to meet in a member's home, the American Veterans are making their own arrangements and it is unknown what has been decided for the men's auxiliary meetings.
Caskey said of the closure, "We didn't want this to happen."