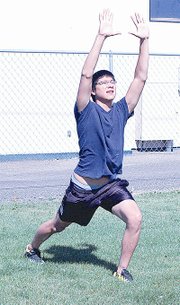 Fitness and health is why Carlos Zarate has chosen his career. He wants to help others achieve their healthiest self.
"That's what it's all about," he said.
The 21-year-old personal trainer, nutritional consultant and yoga teacher says that in his business, continuing to learn is the way to go.
"If you don't continue to learn, you become stagnant," he said.
As the next step in his career Zarate has also become a Zumba instructor. Currently he teaches his skills to others at his studio in Grandview, along with additional courses at Sunnyside's Our Savior's Lutheran Church.
Coupling his love for fitness and of his old hometown Sunnyside, Zarate has offered his services to help the local church.
On Saturday, July 21, Our Savior's Lutheran will be hosting a fundraising event at Sunnyside's Mélange, located at 2580 East Lincoln Ave. As part of the event, Zarate will teach a one-hour Zumba course beginning at 9 a.m. He says attendees should remember the event is outdoors, so proper protection should be brought, such as sunscreen, water and hats.
The event is $10 to participate, and the first 50 to sign up will receive a t-shirt and water bottle. The souvenirs will be adorned with local business logos such as Mélange and Van DeGraaf Ranches. These local businesses are also pitching in, helping sponsor the event, along with local individuals.
The fundraiser profits will go towards expenses at the church, donated by locals, businesses and class attendees.
Tickets are available at Mélange, or by contacting a local Our Savior's Lutheran Church member.