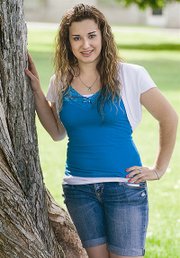 Serving as Miss Sunnyside provides a number of great opportunities for young ladies like 2012-13 candidate Jasmine Gonzalez.
She said she believes the Miss Sunnyside court has the opportunity to promote the community, inspire youngsters and help community members.
Gonzalez is learning she can also express herself better as a candidate and believes she would have additional opportunities to do so if selected for the Miss Sunnyside title.
She is most interested in inspiring young minds via a science-oriented community service project.
Gonzalez said she developed an interest in science at Harrison Middle School while in the sixth grade classroom of Darla Van Corbach. She began participating in science fairs and enjoys exploring her interests with a scientific analysis.
If chosen to serve as Miss Sunnyside, Gonzalez would like to organize opportunities for youngsters to experience the world of science via a "Little Big Scientists" camp she hopes to organize.
"I want them to learn how to enjoy science through activities like making snow, volcanoes and play dough," she said.
Gonzalez would also like to teach youngsters in the community about the weather and various science careers.
By exposing youngsters to science, Gonzalez hopes more students will be interested in participating in science fairs and pursuing careers in the field.
"It's inspiring to see others become enthusiastic when they discover something they can share with their families and friends," said Gonzalez.
She said she plans to work with Sunnyside High School science teacher Joyce Stark to organize the community service project.
Gonzalez is also hoping her interest in the sciences will lead to a career in a science-related field.
"I would like to attend the University of Washington to pursue dentistry," she said.
"I know dentists must take several courses in the sciences," said the Miss Sunnyside candidate.
She said helping her community is foremost on her mind. She would like to return to Sunnyside after obtaining her dental degree so she can provide community members with affordable dental care.
Asked how she would showcase Sunnyside to people not familiar with the community, Gonzalez said she would like to provide them with a tour that is very personal to her, namely the agricultural fields, orchards and vineyards to explain why the workers choose to come here.
Gonzalez said her parents, Elena and Jesus, started life in the U.S. as farm workers.
"It was hard to support five children by working in the fields," said Gonzalez, stating her parents wanted a better life for their children and were willing to work hard to provide that life.
"I've seen how hard work and determination can shape a person's character," said the young Gonzalez.
She said hardship like her family has experienced can break an individual's resolve, but her parents succeeded in life. Her mother was able to open a home day care and her father was able to leave the fields to help.
"Knowing and understanding my background, someone who doesn't understand the foundation of the community can see what people stand for here...they can see what has led to my success," said Gonzalez.
She said one of her brothers, too, has triumphed over hardship. He is the proud owner of Empire Heavy Equipment Repair in Sunnyside.
Because of his success, Gonzalez said she is inspired and would provide someone visiting the community an opportunity to visit her brother's business.
"My brother, Joel, has been a role model, enduring many challenges in life," said Gonzalez, stating he had to scrimp and plan to graduate from college and open the local business.
"He reminds me anything is possible in life if a person is willing to work hard for it," she said.
Also on the visitors tour would be Sunnyside High School. Gonzalez said it is a place that provides students like herself with the opportunity to express themselves and achieve academic success.
"I feel free to be myself at Sunnyside High School," she said, stating students and staff are very supportive and accepting of individuality.
"They motivate me to become the best person I can be."
Sponsoring Gonzalez for the Miss Sunnyside Pageant are Empire Heavy Equipment Repair and Dr. Ronald Couterier.
She is one of 13 young hopefuls vying for the Miss Sunnyside title. The Miss Sunnyside Pageant will be staged on Saturday, Sept. 15, at the Sunnyside High School auditorium.