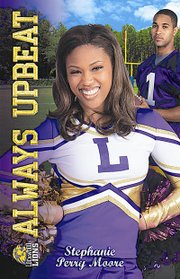 The first thing a reader should know about the Lockwood Lions series is that it's aimed at a savvy young adult audience and not at adults.
The second thing to know is that each book in the series is a flip book with two stories focusing on two linked characters in each book. To read the other character's point of view, the reader literally flips the book over to find a different cover and a different perspective.
The characters in "Always Upbeat/All That," the first book in the series, are boyfriend and girlfriend. Charli Black is a smart cheerleader who strives to always be upbeat and lead her cheerleading squad to a championship. Her boyfriend, Blake Strong, is captain of the football team and one of the best high school quarterbacks in the Southern United States.
But while the two characters think they know each other pretty well, the stories illustrate just how little they understand each other's problems and concerns.
Examining a story from two different perspectives has been done in fiction before, but it isn't as common in this format to see two parallel lives telling different stories. This is done while showing how miscommunication breaks down a relationship.
The format is the key. The stories could have been combined into a single novel with alternating chapters, but it would not have held together as a single book because each character has a unique experience. The cheerleader's story is completely different from the quarterback's tale.
The stories are undeniably linked, however, and needed to be presented together. The flip book serves to provide the continuity for both stories to exist in the same place.
The writing is stilted at times and uses the slang of the setting. This will be a problem for some readers, who will quickly tire of characters that don't use proper grammar and paragraphs made up of choppy sentences.
However, the improper grammar is mostly in dialogue, and reflects actual speaking patterns that the target audience would be familiar with and possibly more comfortable reading.
The choppy sentences tend to reflect the thinking patterns of the main characters, as both stories are written in the first person.
Fortunately, any nit-picking about the language is almost overcome by situations that readers may find familiar, even universal, presented in a new way. If a reader can get past issues with the writing, the reward is two decent stories that are both inspiring and potentially uplifting.
"Always Upbeat" was written by Stephanie Perry Moore, author of young adult inspirational novels and a public speaker. "All That" is written by Moore and her husband Derrick Moore, a former NFL running back and motivational speaker.