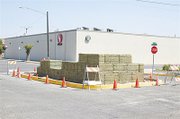 Bonnie Dunbar is returning to Sunnyside after having flown on five space shuttle missions and being the President and CEO of the Seattle Museum of Flight.
But this time, she's going to be staying in town in the form of a bronze statue.
The dedication ceremony for the statue will be held on Monday, July 16, at 10 a.m. at the statue site on the corner of Fifth Street and Franklin Avenue in Sunnyside. All are welcome to attend.
Dunbar, who grew up in Outlook and graduated from Sunnyside High School, is the first living person to be immortalized in the city's series of bronzes. The other bronzes depict cattleman Ren Farrell (near the Ben Snipes Cabin), H. Lloyd Miller (irrigation pioneer) and "Morning Chores" (girl milking cow).
The oldest of four children, Dunbar grew up on the family farm working hard. She loved to read, which is why the bronze depicts her as a young girl sitting on a hay bale reading a book. She was a fan of science fiction, and decided to become an engineer despite the barriers for women in the field at that time.
Dunbar was the first of her family to attend college. She was one of nine female engineering students out of 2,000 at the University of Washington at the time and was active on campus.
During her summers, she worked on ceramics for NASA. The work she did was part of the thermal protection system that eventually made the space shuttle program possible.
After graduating she worked at Boeing for a couple of years until she returned to graduate school to earn a Master's in science.
She went on to work on the space shuttle at Rockwell International Space Division in California.
In 1977, as soon as women were allowed into the astronaut program, Dunbar applied and was one of the 100 finalists. She didn't make the first group, but was offered a position as a flight controller/payload officer. Her employer at Rockwell urged her to take the position, and honored her in 1978 as Engineer of the Year for her work on the shuttle's thermal protection system.
After two years at NASA, Dunbar reapplied to become an astronaut and was accepted, at age 31. Five years later she became the seventh American woman to travel in space.
She flew five times in the shuttle program from 1985 to 1998, spending a total of 50 days in space and conducting more than 200 experiments. She flew on four different shuttles, the Challenger, Columbia, Atlantis and Endeavor.
Dunbar retired from NASA in 2005. She had earned her Doctorate in 1983 while in astronaut training.
From 2005 until 2010, Dunbar was President and CEO of the Museum of Flight in Seattle. She spent the time working on outreach and inspiring youth.
Since then, she has started her own consulting company, Dunbar International, LLC. She is involved in aerospace technology and promoting space exploration.
The dedication ceremony for Dunbar's bronze will involve a parade from the Law and Justice Center to the bronze site near the city pool.
Sunnyside Mayor Mike Farmer, Sunnyside School Board Chairman Miguel Puente, a spokesman from the governor's office and Bonnie Dunbar will speak at the unveiling.
After the ceremony, a luncheon will be held at the Holy Trinity Episcopal Church at Fourth Street and Edison Avenue.