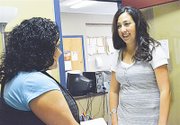 There are sadly many children in this world whose home environments aren't safe and secure.
They are exposed to a great number of situations the average person couldn't fathom.
That's why Erma Medina's job as a foster care licenser is so important.
She is responsible for finding people willing to take in foster children, many of whom have experienced abandonment issues, physical and emotional abuse, neglect and other unhealthy situations.
Medina began working for Service Alternatives in Sunnyside eight years ago.
At the time she was a parts runner for the local Schuck's Auto Supply. A co-worker put her in touch with his wife at Service Alternatives because he knew Medina was earning a degree in social work.
Medina said she completed a shadow shift, applied for a job with the foster care service and was hired.
She has served as a behavioral intervention support specialist and case manager, as well as her current role of foster care licenser.
"They're (Service Alternatives) very supportive of anyone seeking to further their education...they made it possible for me to earn my degree," said Medina, stating her supervisors were flexible and worked around her school schedule to ensure she earned her degree in social services.
Being a foster care licenser, said Medina, involves a lot of recruiting. She is responsible for making connections with anyone who has considered being a foster parent, screening them and making sure they are able to provide a quality living environment for the children being placed in foster care.
"Many have thought about being foster parents for several years...it doesn't happen overnight," she said.
Medina said the homes must be healthy and safe.
"Being a foster parent isn't about being paid," she said. "If someone looking at possibly being a foster parent asks me how much they will receive for fostering a child, they probably aren't cut out for it."
Medina said foster parents are provided a reimbursement for meeting the daily needs of the children they take in. They are held accountable for expenditures and guidelines are in place to ensure funds are used appropriately.
She said clothing, food, summer activities and transportation are all listed within the guidelines.
"It takes special people to take foster children into their home...it requires special people to raise other people's children, even if they are relatives," said Medina.
She said it requires a lot of adjustment and changes the lives of everyone. The foster families must adjust their own lives to provide a loving, stable home for the children in their care.
Medina noted foster children will test the boundaries in an effort to test the reliability of those caring for them.
"They will push and try to break the individuals caring for them because they believe there are limits," she said.
Continuing, Medina said, some foster children have been shuffled from one home to the next for a variety of reasons and haven't known any stability. That leads them to sometimes act out, trying to establish that those who are caring for them won't provide them unconditional love.
"They are all good kids...they've just experienced and seen other things in life that most of us haven't...some files are filled with stories of children who've experienced a great amount of hardship," said Medina, stating the children want love and acceptance.
"That is the heartbreaking truth," she said.