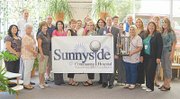 The Sunnyside Community Hospital Foundation is holding its 20th annual golf tournament on Friday, Aug. 17, and is looking for golfers and sponsors now.
The tournament, a four-person scamble, will include a variety of prizes, including a chance at a $1 million hole-in-one. Every registrant will come away with something.
Registration includes 18 holes of golf, electric cart usage, a box lunch and beverages.
The tournament was started 20 years ago when a hospital employee, Tom Kimbel, decided to hold a fundraiser to benefit another hospital employee who was critically ill with cancer. He was joined by others and the monetary contribution greatly eased the financial burden on the family.
Since then, the tournament has been a tradition in Sunnyside. In the last five years it has raised more than $2 million and has helped the hospital update the surgical department, the intensive care unit, the family birth center, the pharmacy and the emergency department.
Registration is $100 per golfer or $400 for a team. Register online at www.sunnysidehospital.com/foundation.html or email trish.combs@sunnysidehospital.org for more information.