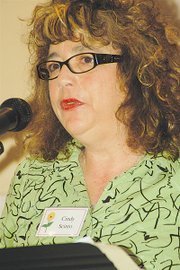 PROSSER - "We've lost her, there's no heartbeat."
That's what Cindy Scinto heard as her lifeless body lay in the hospital in 2005.
"I died three times that day," she said.
She says she watched, "standing next to the Lord," as what seemed to be the end of a long battle with heart disease.
Just after the attacks on 9/11, in 2001, Scinto began having a series of her own attacks; heart attacks. For the next three years, she endured 25 heart attacks.
"Why are you still alive," is the question medical professionals repeatedly asked her.
On that day when she thought it was the end, she says she had a short discussion with God.
"Is today the day I'm supposed to die," she asked Him.
"Nope," He responded.
She says as soon as God told her it wasn't time to die, she woke up and was again asked, "Why are you still alive?"
Scinto told the heart-wrenching story of more than 10 years battling heart disease, cancer and other health issues to the Lower Valley Christian Women's Connection at its monthly meeting in Prosser this past Tuesday.
Now, still battling cancer and health issues, Scinto is a walking miracle. And after several near-death experiences, she says nothing scares her.
Much of her time is now spent traveling and telling her story, in hopes of offering hope and faith to someone who might need it.
She went on to tell her story, of heart and pancreas transplants and more surgeries than she can count. She says through it all, her faith has become stronger, and she knows when her time on earth is done, she'll be in a good place.
Scinto invited attendees of Tuesday's meeting to decide if they, too, might need a "spiritual" heart transplant.