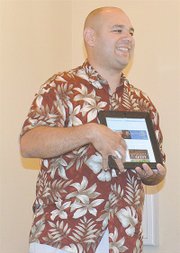 Although there wasn't a featured speaker at yesterday's (Thursday) Sunnyside Chamber of Commerce meeting, Joey Castilleja of Genius Coach was able to provide a detailed report about the chamber's new website, www.sunnysidechamber.com.
Chamber President Gerald Roy said the website is continuing to be restructured to better meet the needs of Sunnyside Chamber of Commerce members and anyone seeking information about the community.
"We are adding new features to the website and can also see how many hits we have on the site," he said.
Castilleja said there were 160 hits from "Seattle proper" on the website last week.
There have also been a lot of visitors to the website from New York.
Yesterday's meeting was at noon and Castilleja said the website had 52 visitors prior to the meeting, as well as 120 page reviews.
He said the number of visitors means people are looking at the Sunnyside Chamber of Commerce website, and the search criteria that has been most common in recent weeks has been "Sunnyside, Washington fireworks."
Castilleja said new features to the website include changing pieces. The site has been programmed to display the most current photographs from Sunnyside events.
"We have programmed it a year out so it will change on a continuous basis...you won't see a photograph from 2009 every time you visit the website," he said.
At the meeting, Castilleja said the website would be updated to promote the unveiling of the Bonnie Dunbar statue and the Port of Sunnyside's Industry Appreciation Barbecue.
He urged chamber of commerce members to upload photographs from recently attended events to the website to provide tourists and other members the most current information available.
"It's a way for members to promote community events," said Castilleja.
In addition to the changing website, he said the chamber is working on restructuring its membership fees. He said the new structure will help new business owners become members with full membership benefits at an affordable cost.
It will also help promote the various businesses in the community, although members that pay a higher membership fee will receive a little more exposure.
Castilleja said the membership structure will determine the placement of a business logo on the chamber's website. The logos for basic membership might be placed lower on the web page, whereas a member paying the higher fee might have a logo more prominently displayed.
He said another marketing tool the Sunnyside Chamber of Commerce is working on is member-to-member e-blasts and member discounts.
Castilleja said the website is becoming a very useful tool for anyone who uses it and the chamber board is pleased with the results it is seeing so far.
More like this story