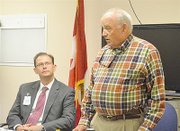 Sunnyside Community Hospital has been experiencing several changes, including a new CEO and Chief Financial Officer in recent months.
Last Friday a special luncheon was held so that members of the community could meet John Gallagher, the new CEO.
Board President Dr. Jon Mercer said the changes at the hospital started after the former CEO, Jon Smiley, retired after 20 years at the helm.
"The board had to decide what to do," said Mercer.
He said Gallagher came aboard and the hospital is "moving forward."
Mercer said the changes so far indicate "...the hospital has a positive, rosy future."
Sunnyside Community Hospital, he said, is one of just two privately owned, self-financed hospitals in the state. That status, said Mercer, makes the hospital unique.
Adding to its unique position is the fact that the hospital serves communities in an area that spans from Prosser to Zillah.
"We have no taxing authority and we aren't associated with a religious group," said Mercer, stating the only funding received by the hospital is from patients and donors.
Because the hospital and its staff are focused on providing quality patient care, Mercer urged those attending the luncheon to share compliments, complaints and suggestions at any time.
Because the purpose of the meeting was to introduce Gallagher to the community, he quickly turned the meeting over to the new CEO.
Gallagher began by introducing Cary Rowen, the hospital's new Chief Financial Officer.
Gallagher said he is impressed with Sunnyside Community Hospital and its staff, stating, "A strong foundation has been established at this hospital."
That foundation is made up of "great folks" and quality customer service.
"Each staff member is here for the right reason," Gallagher said, stating there are 25 physicians and more than 300 staff members employed by Sunnyside Community Hospital.
He said every member of the staff is focused on providing quality customer service and "...when customer service is good people will return."
The hospital's finances and growth, also important to the foundation, are strong as well.
Gallagher said there have been some changes in the finances, and "...the outlook is good."
He said there are always opportunities to improve services to help the hospital grow. He said he's been working on a couple of projects to add on needed services not already available, particularly for patients with transportation issues.
"My family has enjoyed becoming part of the community...we've been made to feel welcome," said Gallagher of getting settled into Sunnyside.
He said his philosophy of being open to others stems from experience with another CEO who told him everyone puts their pants on one leg at a time.
For that reason, Gallagher encouraged those at the meeting to talk with him whenever they have an opportunity.
"I'm no different than any of you...I just might have a few bigger headaches."