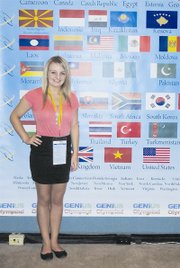 NEW YORK, N.Y. - It was 3 a.m. when Jenny Hall and her mother rose for the day, ready to make their television debut.
The two were in New York for a science competition, but decided an appearance in the crowd of the Today Show had to be done.
Last year the Zillah High School student decided she'd like to transfer to Sunnyside.
"They have more AP classes and a really good science program," she said.
The 16-year-old says she loves science, and this past year was her first ever science fair competition.
She completed a project involving research on which "natural filter is the most effective in urban runoff water, and effective ways to introduce natural filters into cities."
Her project garnered several awards, including second place honors in her division at a regional science fair competition. Because of her success, she was also invited to a state competition where she took home third place honors.
But the most impressive, perhaps, was the bronze medal she earned at the Genius Olympiad-International Science Fair this past June in New York.
Hall was among just 46 competitors who represented students from the United States, in all nearly 250 students were invited to compete.
Icing on the cake to her accomplishments was a phone call she received while in New York.
"I got a call from the president elect of the Washington State Academy of Science," she said.
The call was an invitation to attend a symposium titled "Water, Washington and the World."
During the symposium set for this coming September, Hall will present her award-winning project and answer questions the guests may have.
After high school Hall says she'd like to pursue a career in the medical field. But first, she'd like to earn a degree in neuroscience. Then she'd like to work as a doctor in an emergency room and intensive care unit setting.
For now, the soon-to-be junior at SHS is also participating in the 2012-13 Miss Sunnyside Pageant, while still completely focused on her science studies.