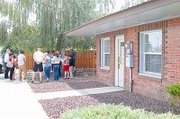 Sunnyside Transformation Yakima Valley dedicated its new office with prayer and praise last Friday, as the organization continues its work to transform Sunnyside by bettering the lives of city residents.
The building, at 201 S. Seventh Street, was blessed with oil and water in a ceremony led by Rose Marie Wrung.
Bill Flower told the group the history of the building, and how it hosted the Sinner brothers who exported root crops from the valley. The wood building they were using for an office burned down, taking all their records with it. The brothers rebuilt the building using brick produced in Granger.
"This building has good vibes," said Flower. "Thank you for bringing back life to downtown."
Flower took the opportunity at the dedication to announce that Roberto Matus of Sunnyside Transformation Yakima Valley has just been elected to the Sunnyside Chamber of Commerce board.
Jerry Haak spoke on the purpose of Sunnyside Transformation Yakima Valley, saying the building is a great addition to the organization and its goals of love, service and grace.
"We will use this building to love the community," he said. "We will use this building to serve the community. We will show grace to the community from this place."
Matus said he hoped the building would become "ground zero for transformation."
He told the group about meetings held Friday morning at the building. After the meetings, the attendees were urged to clean up the streets, starting with those around the office.
The organization is currently working on two major projects. One is a business incubator for the city. The group is waiting to hear back on a grant application for the effort.
The other project is Sunnyside Pepper Fest, a fundraiser planned to be held in September in conjunction with Sunshine Days and will highlight locally grown produce and other local products.