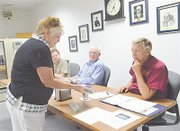 The Port of Sunnyside and the city of Sunnyside have been working together for the purpose of improving the way weather is reported to pilots arriving at the Sunnyside Municipal Airport.
The two entities secured Federal Aviation Administration funding for an automated weather observation system (AWOS) and at Monday's Port of Sunnyside commissioners meeting a memorandum of understanding was approved.
The memorandum helps Sunnyside move closer to the installation date for the AWOS system, which will provide weather data for Sunnyside to pilots, farmer and citizens.
A power pole for the system must be installed on property owned by the Port of Sunnyside adjacent to the airport runway.
A memorandum of understanding must be approved to "eliminate any confusion of responsibilities," according to the city of Sunnyside's staff report written by Public Works Superintendent Shane Fisher.
He wrote, "The (AWOS) project has been submitted to the FAA for site approval and the need for power to the proposed site is necessary."
The Port of Sunnyside will pay Pacific Power and Light the more than $4,000 for the installation of electrical services to the site, and the city of Sunnyside will reimburse the port. The FAA will provide the city with grant reimbursements related to the project.
The Port of Sunnyside commissioners raised no objections or concerns.
Commissioner Jim Grubenhoff asked if there would continue to be an airport committee.
He noted the city has decided against an agreement that would give the port district authorization to manage the airport.
Port of Sunnyside Executive Director Amber Hansen told the commissioners the airport committee is required by the FAA and the Sunnyside Municipal Code.
"The committee should have always been in place," she said, stating the requirement is in place because the airport receives federal funding.
The commissioners approved the memorandum of agreement for the power pole and electrical services for the AWOS system by a unanimous vote of 3-0.