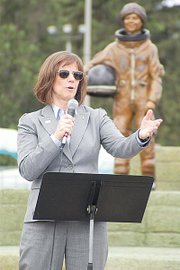 A crowd of about 200 people gathered yesterday morning in Sunnyside at the corner of Fifth Street and Franklin Avenue for the unveiling of a bronze memorial that features two statues honoring Outlook native and NASA astronaut Bonnie Dunbar.
Family and community support were at the forefront during Monday's ceremony, as the crowd joined former Outlook Elementary School Principal Cathy Mears in "honoring our Bonnie."
Dunbar, who flew five space shuttle missions, was on hand for the statue unveiling - the fourth erected in town by Sunnyside's Bronze Society and the first depicting a living person.
"She's living proof that dreams can come true no matter how big they are," Sunnyside Mayor Mike Farmer commented during yesterday's ceremony.
"Humbled and honored"
"Growing up here, not one person told me I couldn't follow my dreams," Dunbar told the crowd, thanking the Sunnyside and Outlook communities for the support and opportunities they provided.
"I'm very humbled and honored," Dunbar said later. "It's rare for this to happen to someone who is still alive." On top of that both Washington state and the city of Sunnyside declared July 16 Bonnie Dunbar Day. "I'm honored and overwhelmed," she said.
Dunbar's first dreams of space exploration began when she was a school girl growing up on an Outlook farm. Accordingly, yesterday's ceremony included Mears presenting Dunbar with duplicates of the original story books about space that she read while still a little girl. "These don't go to the garage sale," Mears joked.
"A great inspiration"
In comments on behalf of the Sunnyside School District, board member Lorenzo Garza Jr. noted the location of the Dunbar bronze vignette - which portrays her both as that young girl and as a NASA astronaut - is fitting that it's near Central Park and the Sunnyside pool.
Garza said his hope is that children will pause as they pass by the statue to remember Dunbar, a 1967 Sunnyside High School grad, and be inspired by her can-do spirit.
A former Sunnyside school board member, Joanne Kilian, offered the invocation yesterday, and noted if "God wants us to do it we can do it."
Not only did the community show up to support Dunbar yesterday, so too did her family.
"It was tops," said Dunbar's mother, Ethel. "I really appreciate everything that's been done for her."
Dunbar's niece, Sydney Squires, was also in attendance and performed the unveiling.
"I thought it was great," Squires said. "I really look up to her. She's a great inspiration for every kid around the world. And she's a great aunt, too."
Squires wasn't the only youngster in attendance inspired by Dunbar's example.
"It makes me proud to say I know Bonnie Dunbar," says Cheyenne Schultz, second princess for the Miss Sunnyside Court. "It shows me that you can do big things from a small town."
State, county and local praise
The extent of Dunbar's reach was evident, too, yesterday as Gov. Christine Gregoire sent regional representative Schuyler Hoss to speak at yesterday's ceremony.
Hoss noted Gregoire and Dunbar have known each other since they were sorority sisters at the University of Washington.
He said Gregoire recalled how even then Dunbar had set her sights on NASA. Hoss praised both women for their passion for education and for young people.
He also read the governor's proclamation declaring the day as Bonnie J. Dunbar Day in the state of Washington.
Rand Elliott is a Yakima County commissioner from the district that includes Sunnyside and was on hand for yesterday's festivities.
"She epitomizes many of the qualities we admire, for someone from a small town to be such a success," Elliott said of Dunbar. "It's a very worthy tribute."
"I think it's really exciting," added Sunnyside Councilwoman Theresa Hancock. "I've watched the popularity of the girl milking the cow (bronze statue), how people take pictures. This adds a role model element."
Joyce Stark teaches science at Sunnyside High School, and has worked with Dunbar both as a member of the bronze committee and in bringing her here as a guest speaker in local classrooms.
"It's nice to have the statue there as a permanent reminder of what she represents, the power of education and studying," Stark said.
"Knew the kid was going to be ok"
While Dunbar was at center stage yesterday with the unveiling, her fifth grade teacher, Kieth Miller, knew she would be a success someday.
During lunch offered after yesterday's ceremony at Holy Trinity Episcopal Church, Miller recounted how during a school baseball game Dunbar managed to injure an eye, an ankle and a finger.
After each injury he asked her to sit out the game and each time she refused.
"I knew with that kind of determination the kid was going to be ok," Miller smiled.
Perhaps the greatest praise during yesterday's festivities was expressed by one of Sunnyside's legendary heroes - WWII POW survivor Les Amundson.
"I think it's well deserved," he says of Dunbar's bronze honor. "She's probably one of the most important people that Sunnyside has ever produced."