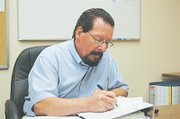 Sunnyside Interim City Manager Frank Sweet presented the June financial report to members of the city's subcommittee on finance and administrative services Monday night, commenting that Sunnyside's budget is "an odd duck, the way we have it set up."
Sweet described the current budget as a mess of spaghetti that staff needs to straighten out while at the same time moving forward.
Some problems with the budget include expenses listed in the wrong line items, some over-estimations left uncorrected when circumstances changed and difficult to use financial software.
"We don't do a good job on paper of processing city funds," said Sweet. "We do a good job in reality, but items aren't posted correctly."
As an example, the police department's K9 unit was mentioned. The line item for the unit continues to be blank while the patrol officer line item contains a large figure because the K9 officer has not been moved over on paper yet.
To fix the problem, Sweet said he intends to shift accountability back to departments where they belong, giving ownership and responsibility of funds to individual departments instead of the city as a whole.
Committee member Theresa Hancock, a city councilwoman, noted that she'd been told by staff before that they didn't know what their budget was, which made planning difficult.
Committee member Craig Hicks, also a councilman, asked if the change would mean each department would need to write out a list of what it requires for the year.
"If they expect to get any money from me, they do," answered Sweet.
Committee member and Councilman Jim Restucci also asked that requests for public records be added as a line item so the city can track the amount of money spent on processing those requests. He noted cases where cities have spent significant portions of their annual budgets on such requests.
Some items that were over-estimated at the beginning of the year can be fixed by city council. An example was the licenses and permits line item.
"I'm not sure the economy was taken into consideration when the revenue was estimated," said Sweet.
Restucci asked that the city look at other possible financial software to overcome the difficulties and flaws in the current system. Hancock suggested that the software be evaluated by people that will be using the software, and not by the subcommittee.
In other business, Sweet argued that competition would be a good thing with the debt collection services the city has been using. He suggested the city offer three local companies three-year non-exclusive contracts and keep the companies that do the best job, rather than giving an exclusive contract to a single company.