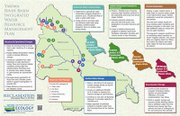 GRANDVIEW - Water isn't free, and it isn't a guaranteed right.
Yakima County Commissioner Mike Leita says the water rights issues for the Yakima River Water Basin will either be solved collectively, or through the courts.
Leita and Department of Ecology's Derek Sandison spoke to Yakima County Development Association New Vision board members late last week about the progress of a plan to help solve water right issues in Yakima County.
In June 2009, the Department of Ecology and the U.S. Bureau of Reclamation brought representatives from the Yakama Nation, irrigation districts, environmental organizations and federal, state, county and city governments together to form the Yakima River Basin Water Enhancement Project Working Group to help develop a consensus-based solution to the basin's water problems.
The Yakima River Basin is 6,155 square miles in size and holds 500,000 acres of irrigated cropland. Nearly $2.3 billion is generated in the basin through food processing and $1.8 billion in agricultural production.
The goal has been to seek authorization and funding from both the U.S. Congress and the Washington state legislature to begin implementing projects outlined in the integrated plan.
"We're finally at a point in the plan where we are ready to start implementing," said Leita.
The plan includes fish passage, fish habitat enhancement, modifying existing structures and operations, surface storage, market-based reallocation, groundwater storage and enhanced water conservation.
Leita says the reallocation element of the plan is segregated into a near-term effort and a long-term effort. The "right now" plan is to build on existing water markets. As for the long term, the plan is to transfer water between districts.
The plan also outlines the desire to increase fish species abundances, reintroduce sockeye runs and give fish access to high quality water.
Sandison says the group hopes to have the framework for implementation of the plan ready by the end of August. He says, however, that all facets of the plan may be stretched over a 30-year period, but they hope to have a cue of slated projects to complete every five years.
For more information about the Yakima River Basin Integrated Water Resource Management Plan, visit www.ecy.wa.gov/programs/wr/cwp/cr_yak_storage.html.