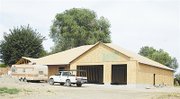 A single family home accounted for nearly half of the valuation for new construction in Sunnyside during the month of June.
The three-bedroom, 3,035 square-foot home in the 800 block of Scoon Road is valued at $279,125. City officials gave the project a green light on June 26 when they issued the building permit.
The new home start, which lists Jorge and Silvia Alvarez as applicants, was the biggest project Sunnyside building officials approved in June.
For the month, the total valuation of all new building starts was $691,104.
The Scoon Road home was assessed $3,307 in building permit fees, accounting for about a third of the $9,861 in building fees Sunnyside city coffers received during the month of June.
Other notable new building starts greenlighted last month included a $200,001 steel storage building in the 500 block of Midvale Road that lists Greg and Laura Van De Graaf as applicants. Contractor for the Midvale Road steel building is listed as Yakima-based All Services, Inc. The structure garnered Sunnyside $2,577 in permit fees.
In addition, the go-ahead was given last month for three metal siding projects with a combined valuation of a little more than $23,000.
They include new siding at a Sunnyside High School baseball field building.
The month of June also saw Sunnyside city planners issue permits for five roofing projects with a combined valuation of just under $20,000.