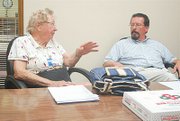 The City of Sunnyside currently forks over more than $530,000 of its general fund monies to operate the parks and the pool.
Interim City Manager Frank Sweet told parks and recreation board members yesterday (Wednesday) of an idea to help fund the parks in better fashion: with a parks district.
"There's a finite amount of money coming in," Sweet said.
He says a parks district would allow a portion of property taxes to be dedicated towards the parks. Sweet predicted between eight and 10 cents per $1,000 of assessed property value would be the tax increase for property owners living within the Sunnyside School District if a parks district is formed.
"If it's such a great idea, why are there only three cities in the state doing this," board member Dorothy Aiken asked.
Sweet responded, citing most voters don't trust their city governments to spend the money appropriately.
"But if you could agree with us and help us promote it, I think people would get behind it," Sweet said.
Board chair Kari Zapata said they need to see the numbers. A previous quote from a former city employee predicted the tax would total around 75 cents per $1,000 in assessed property value.
"That seems like too much for this kind of tax," Sweet responded.
He agreed to bring back numbers to the board, and figure out what the tax would be before the next parks and rec board meeting on Aug. 15.
Sweet added that the city is in no way considering shutting down the pool and parks, but rather looking at how to make things better and run more smoothly.
"We are a service organization, we have a job because the citizens are nice enough to live here and pay their taxes," he said.
With that said, he noted the duty of the city workers is to serve the community.
Dog park
In addition to the parks district discussion, two residents joined the meeting to begin a discussion with the board about forming a dog park in Sunnyside.
Jose and Crystal Salas said they'd like to find out what it would take to start the no-leash park in Sunnyside.
"We need to know where to start," said Mr. Salas. "We are willing to offer our services, and look into other cities and how they did it."
Mrs. Salas says the park should be away from residential areas.
"It's a great idea," said Sweet.
But the next step is to look into the cost and how to fund it. Sweet also said he'd like to see the other parks in Sunnyside "dog friendly."
Sweet said this is another way the city can help serve Sunnyside residents with the parks.
He also said he'd like to see more events planned for residents and visitors. A dog park would be an added bonus for visitors in town for an event, who may have time on their hands and want to exercise their pets.