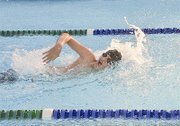 The yet to be beaten Selah Dolphins remained undefeated, although Sunnyside's Sharks gave the visitors all they could handle, and more, last night.
In the end, it was Selah prevailing by the slimmest of margins, 408-395. The win boosted the Dolphins to 8-0 in Mid-Valley Swim League play. For Sunnyside, the heartbreaking loss was just its second of the summer, both of those defeats coming to Selah, and relegated the Sharks to a second-place finish in the league standings.
Last night's meet was actually a continuation of a match-up between the two swim clubs that started last Thursday. That first meeting was cut short, though, at about the halfway point because of nearby lightning strikes.
Although Sunnyside ended up losing for a second time to the Dolphins, only getting clipped by 13 points last night sets up some exciting scenarios for the July 27-29 Mid-Valley Swim League Championships in Naches. It's the end of the summer championship meet where the league's top crown is awarded.
In besting the Sharks in the Sunnyside pool Wednesday evening, Selah's strength came from the children of the Lancaster, Frampton, Hull and Vick families. The youngsters in those four clans together collectively earned 213 of the 408 points Selah tallied.
Sunnyside had its own stalwarts in the likes of the Broersma sisters, who together were in on 11 victories. The Sharks also received stellar performances from Clay Schilperoort, a four-time winner in the boys 10&U individual events; Logan Rodriguez, who won three of the four boys 8&U races; Jolissa Mendoza, four times a winner in the girls 12&U individual races; and Alex Perez, likewise who came away with four victories, at boys 16&U.
The race of the night, in terms of competiveness, occurred in the 200-meter individual medley, although a Sunnyside swimmer wasn't involved in the outcome. The Selah pair of Carson Vick and Jacob Frampton, at boys 12&U, finished the marathon race within 11 hundredths of a second of one another. Vick got the win with a clocking of 3:11.70, with Frampton finishing in 3:11.81.
The one other down-to-the-wire battle occurred in the girls 18&U, 50-meter butterfly. Sunnyside's Marisa Broersma prevailed in that photo finish, however, with a clocking of 34.29 seconds. Selah's Aricka Smith was a close second in a time of 34.92.
Perhaps the most spectacular performance turned in last night was by Nolan Frampton of Selah. Competing in the 50-meter freestyle, at boys 14&U, he swam the length of the Sunnyside pool in 28.05 seconds. His clocking ended up being faster than even the 16&U and 18&U competitors.
Sunnyside (7-2) has two league meets remaining before the July 27-29 championship meet. The Sharks will host Toppenish next Tuesday and then travel to Othello on Thursday of next week.
SELAH 408
SUNNYSIDE 395
200-Meter Medley Relay
Girls 10&U
1st-Selah (L. Lancaster, E. Lancaster, K. Hartman, C. Elyea) 3:29.62
Boys 10&U
1st-Sunnyside (C. Schilperoort, C. Robert, J. Siller, P. Gallagher) 3:47.11
Girls 12&U
1st-Sunnyside (K. Bunch, B. Newhouse, J. Mendoza, E. Banks) 2:52.87
Boys 12&U
1st-Selah (A. Escamilla, J. Frampton, W. Richardson, C. Vick) 3:00.51
Girls 14&U
1st-Sunnyside (L. Schilperoort, K. Bestebreur, A. Harrington, K. Banks) 2:38.16
Boys 14&U
1st-Selah (R. Leischner, I. Lancaster, N. Frampton, J. Bayle) 2:28.79
Girls 18&U
1st-Sunnyside (B. Broersma, M. Broersma, P. Sample, M. Marquez) 2:32.70
Boys 18&U
1st-Sunnyside (C. Martin, G. Rodriguez, A. Perez, N. Scheenstra) 2:18.69
50-Meter Butterfly
Girls 8&U
1st-Trista Hull (Se) 46.15, 2nd-Robin Willey (Se) 1:03.00, 3rd-Isabella Vick (Se) 1:05.40, 4th-Grace Ziegler (Su) 1:07.23
Boys 8&U
1st-Logan Rodriguez (Su) 1:02.28, 2nd-Myles Newhouse (Su) 1:05.07, 3rd-Sammy Rees (Se) 1:13.83, 4th-Gage Newhouse (Su) 2:05.43
Girls 10&U
1st-Lily Lancaster (Se) 54.55, 2nd-Charlee Elyea (Se) 57.35, 3rd-Elle Lancaster (Se) 58.47, 4th-Bailey Hazzard (Su) 1:01.43
Boys 10&U
1st-Clay Schilperoort (Su) 56.57, 2nd-Eli Ziegler (Se) 1:03.47, 3rd-Erick Vergara (Su) 1:07.41, 4th-Giovanni DeLoza (Se) 1:09.00
Girls 12&U
1st-Jolissa Mendoza (Su) 39.25, 2nd-Jesse Rees (Se) 40.10, 3rd-Esmi Cerda (Su) 43.79, 4th-Lauren Alderman (Se) 46.85
Boys 12&U
1st-Carson Vick (Se) 39.64, 2nd-Jacob Frampton (Se) 41.77, 3rd-Carlo Rodriguez (Su) 42.99, 4th-Will Richardson (Se) 51.35
Girls 14&U
1st-Aydan Harrington (Su) 35.64, 2nd-Katelyn Banks (Su) 38.31, 3rd-Elyse Kuebler (Se) 39.37, 4th-Erin Herzog (Se) 40.09
Boys 14&U
1st-Nolan Frampton (Se) 33.09, 2nd-Fox Rodriguez (Su) 34.52, 3rd-Ivan Lancaster (Se) 35.18, 4th-Ryan Leischner (Se) 38.99
Girls 16&U
1st-Brittany Broersma (Su) 34.89, 2nd-Payton Sample (Su) 39.41, 3rd-Madi Marquez (Su) 42.81, 4th-Mikel Perez (Se) 49.22
Boys 16&U
1st-Bailey Perez (Se) 33.28, 2nd-Alex Perez (Su) 33.72, 3rd-Nate Scheenstra (Su) 34.80, 4th-Christopher Martin (Su) 38.47
Girls 18&U
1st-Marisa Broersma (Su) 34.29, 2nd-Aricka Smith (Se) 34.92, 3rd-Tara Van Corbach (Su) 35.27, 4th-Dalainee Viernes (Se) 39.90
Boys 18&U
1st-Bryce Newland (Se) 30.17, 2nd-Giovanni Rodriguez (Su) 31.88, 3rd-Collin Hudson (Se) 33.92, 4th-Breyden Newland (Se) 40.45
50-Meter Breaststroke
Girls 8&U
1st-Trista Hull (Se) 52.02, 2nd-Maile Lancaster (Se) 1:12.15, 3rd-Katie Ramos (Se) 1:14.76, 4th-Elissa Hill (Su) 1:15.71
Boys 8&U
1st-Dylan Haines (Se) 1:08.39, 2nd-Logan Rodriguez (Su) 1:09.05, 3rd-Michael Ozanich (Se) 1:23.23
Girls 10&U
1st-Elle Lancaster (Se) 52.43, 2nd-Kaylea Hartman (Se) 54.27, 3rd-Bailey Hazzard (Su) 54.73, 4th-Kameran Rodriguez (Su) 56.07
Boys 10&U
1st-Clayton Robert (Su) 58.65, 2nd-Clay Schilperoort (Su) 1:03.08, 3rd-Eli Ziegler (Se) 1:04.70, 4th-Jack Ubelaker (Se) 1:05.84
Girls 12&U
1st-Brielle Newhouse (Su) 46.57, 2nd-Emily Banks (Su) 49.61, 3rd-Jolissa Mendoza (Su) 49.63, 4th-Esmi Cerda (Su) 50.55
Boys 12&U
1st-Carson Vick (Se) 44.50, 2nd-Jacob Frampton (Se) 46.54, 3rd-Jace Ziegler (Su) 54.13, 4th-Jacobe Lee Se) 54.49
Girls 14&U
1st-Kalie Bestebreur (Su) 44.22, 2nd-Aydan Harrington (Su) 46.45, 3rd-Elyse Kuebler (Se) 46.89, 4th-Erin Herzog (Se) 47.79
Boys 14&U
1st-Ivan Lancaster (Se) 38.05, 2nd-Nolan Frampton (Se) 38.90, 3rd-Fox Rodriguez (Su) 40.29, 4th-Ryan Leischner (Se) 45.22
Girls 16&U
1st-Brittany Broersma (Su) 41.59, 2nd-Kya Raschko (Se) 42.49, 3rd-Payton Sample (Su) 48.92, 4th-Madi Marquez (Su) 50.40
Boys 16&U
1st-Alex Perez (Su) 39.47, 2nd-Ian Kuebler (Se) 48.03, 3rd-Nate Scheenstra (Su) 48.24, 4th-Bailey Perez (Se) 48.39
Girls 18&U
1st-Marisa Broersma (Su) 39.35, 2nd-Aricka Smith (Se) 43.46, 3rd-Alexandra Newhouse (Su) 47.07, 4th-Tara Van Corbach (Su) 47.32
Boys 18&U
1st-Bryce Newland (Se) 37.13, 2nd-Giovanni Rodriguez (Su) 37.50, 3rd-Breyden Newland (Se) 41.76, 4th-Collin Hudson (Se) 44.88
50-Meter Backstroke
Girls 8&U
1st-Trista Hull (Se) 47.31, 2nd-Isabella Vick (Se) 58.22, 3rd-Robin Willey (Se) 59.63, 4th-Katie Ramos (Se) 1:00.98
Boys 8&U
1st-Logan Rodriguez (Su) 1:01.58, 2nd-Myles Newhouse (Su) 1:05.23, 3rd-Bryce Howard (Se) 1:12.53, 4th-Cesar Vargas (Su) 1:14.07
Girls 10&U
1st-Lily Lancaster (Se) 46.97, 2nd-Elle Lancaster (Se) 52.96, 3rd-Charlee Elyea (Se) 53.62, 4th-Arizona Rodriguez (Su) 58.43
Boys 10&U
1st-Clay Schilperoort (Su) 49.36, 2nd-Cooper Vick (Se) 58.05, 3rd-Eli Ziegler (Se) 58.27, 4th-Patrick Gallagher (Su) 59.45
Girls 12&U
1st-Jolissa Mendoza (Su) 41.82, 2nd-Emily Banks (Su) 43.58, 3rd-Kylah Bunch (Su) 44.80, 4th-Jesse Rees (Se) 45.71
Boys 12&U
1st-Jacob Frampton (Se) 39.93, 2nd-Carson Vick (Se) 40.73, 3rd-Will Richardson (Se) 47.08, 4th-Parker Van de Graaf (Su) 49.27
Girls 14&U
1st-Katelyn Banks (Su) 39.33, 2nd-Aydan Harrington (Su) 39.71, 3rd-Melanie Garza (Se) 40.02, 4th-Lindsay Schilperoort (Su) 40.32
Boys 14&U
1st-Nolan Frampton (Se) 33.97, 2nd-Ivan Lancaster (Se) 37.26, 3rd-Ryan Leischner (Se) 39.36, 4th-Adrian Heffron (Su) 40.79
Girls 16&U
1st-Brittany Broersma (Su) 37.15, 2nd-Payton Sample (Su) 42.14, 3rd-Rachel Krawczyk (Se) 48.21, 4th-Mikel Perez (Se) 51.04
Boys 16&U
1st-Alex Perez (Su) 38.94, 2nd-Nate Scheenstra (Su) 43.40, 3rd-Ian Kuebler (Se) 43.64, 4th-Jamyn Carter (Se) 52.14
Girls 18&U
1st-Aricka Smith (Se) 34.28, 2nd-Marisa Broersma (Su) 36.49, 3rd-Alexandra Newhouse (Su) 43.26, 4th-Dalainee Viernes (Se) 44.09
Boys 18&U
1st-Giovanni Rodriguez (Su) 39.81
50-Meter Freestyle
Girls 8&U
1st-Trista Hull (Se) 36.94, 2nd-Isabella Vick (Se) 49.01, 3rd-Grace Ziegler (Se) 51.61, 4th-Robin Willey (Se) 52.50
Boys 8&U
1st-Logan Rodriguez (Su) 45.63, 2nd-Myles Newhouse (Su) 48.93, 3rd-Dylan Haines (Se) 52.49, 4th-Michael Ozanich (Se) 59.29
Girls 10&U
1st-Elle Lancaster (Se) 39.41, 2nd-Lily Lancaster (Se) 41.10, 3rd-Charlee Elyea (Se) 45.01, 4th-Arizona Rodriguez (Su) 47.03
Boys 10&U
1st-Clay Schilperoort (Su) 39.72, 2nd-Eli Ziegler (Se) 41.56, 3rd-Cooper Vick (Se) 44.17, 4th-Jesse Haines (Se) 44.42
Girls 12&U
1st-Jolissa Mendoza (Su) 35.45, 2nd-Jesse Rees (Se) 36.52, 3rd-Emily Banks (Su) 36.63, 4th-Esmi Cerda (Su) 39.57
Boys 12&U
1st-Carson Vick (Se) 33.99, 2nd-Jacob Frampton (Se) 35.23, 3rd-Parker Van de Graaf (Su) 38.63, 4th-John Herzog (Se) 39.05
Girls 14&U
1st-Melanie Garza (Se) 32.26, 2nd-Katelyn Banks (Su) 33.35, 3rd-Elyse Kuebler (Se) 34.55, 4th-Aidan Hudgens (Su) 34.87
Boys 14&U
1st-Nolan Frampton (Se) 28.05, 2nd-Adrian Heffron (Su) 30.53, 3rd-Ivan Lancaster (Se) 31.68, 4th-Ryan Leischner (Se) 33.63
Girls 16&U
1st-Brittany Broersma (Su) 31.13, 2nd-Payton Sample (Su) 33.58, 3rd-Rachel Krawczyk (Se) 34.29, 4th-Kya Raschko (Se) 37.51
Boys 16&U
1st-Alex Perez (Su) 29.17, 2nd-Nate Scheenstra (Su) 29.20, 3rd-Ian Kuebler (Se) 33.40, 4th-Jamyn Carter (Se) 36.63
Girls 18&U
1st-Marisa Broersma (Su) 30.58, 2nd-Aricka Smith (Se) 30.97, 3rd-Alexandra Newhouse (Su) 35.50, 4th-Dalainee Viernes (Se) 36.15
Boys 18&U
1st-Giovanni Rodriguez (Su) 30.64
200-Meter Freestyle Relay
Girls 10&U
1st-Selah (L. Lancaster, K. Hartman, C. Elyea, E. Lancaster) 3:03.37
Boys 10&U
1st-Selah (B. Howard, J. Haines, C. Vick, E. Ziegler) 3:08.95
Girls 12&U
1st-Sunnyside (E. Cerda, J. Mendoza, M. Hernandez, E. Banks) 2:38.31
Boys 12&U
1st-Selah (J. Frampton, W. Richardson, J. Herzog, C. Vick) 2:33.70
Girls 14&U
1st-Selah (M. Rees, M. Garza, T. Skelton, E. Kuebler) 2:21.87
Boys 14&U
1st-Selah (I. Lancaster, N. Frampton, R. Leischner, J. Bayle) 2:11.33
Girls 18&U
1st-Sunnyside (M. Broersma, P. Sample, A. Newhouse, B. Broersma) 2:15.71
200-Meter Individual Medley
Girls 10&U
1st-Elle Lancaster (Se) 3:50.08, 2nd-Lily Lancaster (Se) 3:55.34, 3rd-Bailey Hazzard (Su) 4:11.72, 4th-Charlee Elyea (Se) 4:12.13
Boys 10&U
1st-Clay Schilperoort (Su) 3:58.03, 2nd-Eli Ziegler (Se) 4:04.45, 3rd-Adam Escamilla (Se) 4:38.96, 4th-Clayton Robert (Su) 4:55.32
Girls 12&U
1st-Jolissa Mendoza (Su) 3:15.75, 2nd-Jesse Rees (Se) 3:26.84, 3rd-Emily Banks (Su) 3:27.11, 4th-Leah Sample (Su) 3:48.09
Boys 12&U
1st-Carson Vick (Se) 3:11.70, 2nd-Jacob Frampton (Se) 3:11.81, 3rd-Carlo Rodriguez (Su) 3:40.93, 4th-Will Richardson (Se) 3:44.54
Girls 14&U
1st-Katelyn Banks (Su) 3:10.36, 2nd-Kalie Bestebreur (Su) 3:12.70, 3rd-Lindsay Schilperoort (Su) 3:13.89, 4th-Erin Herzog (Se) 3:17.36
Boys 14&U
1st-Nolan Frampton (Se) 2:40.92, 2nd-Ivan Lancaster (Se) 2:55.80, 3rd-Fox Rodriguez (Su) 3:03.76, 4th-Ryan Leischner (Se) 3:12.59
Girls 16&U
1st-Brittany Broersma (Su) 2:56.70, 2nd-Kya Raschko (Se) 3:53.68
Boys 16&U
1st-Alex Perez (Su) 2:52.66, 2nd-Nate Scheenstra (Su) 3:11.04, 3rd-Ian Kuebler (Se) 3:17.59
Girls 18&U
1st-Marisa Broersma (Su) 2:53.38, 2nd-Aricka Smith (Se) 3:04.63, 3rd-Dalainee Viernes (Se) 3:21.09, 4th-Alexandra Newhouse (Su) 3:27.98
Boys 18&U
1st-Giovanni Rodriguez (Su) 3:00.83