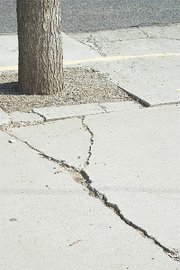 Does the poor condition of Sunnyside's sidewalks merit consideration for state grant money?
If so, which sidewalks would be the best candidates for assistance?
The city of Sunnyside hopes to get some answers tomorrow, Friday, when an official from the state's Transportation Improvement Board visits here.
Shane Fisher is the city's public works superintendent, and he says the official surveying Sunnyside sidewalks tomorrow is something of a "guru" when it comes to helping municipalities determine which grants to pursue.
"There's money out there, it's just hard to qualify," Fisher says of the grants. "He will tell you up front if you have a chance."
The Transportation Improvement Board distributes grants to cities and counties from a pool of money generated by three cents of the statewide gas tax.
Fisher discussed the upcoming visit yesterday, Wednesday, during a public works committee meeting.
The committee consists of council members Jim Restucci, Theresa Hancock and Jason Raines.
The focus of tomorrow's survey will be the area just outside Sunnyside's downtown core of Sixth Street and Edison Avenue.
Noting the city is already looking into grant programs to improve the downtown core, Fisher says the hope is to also upgrade sidewalks that lie just outside that corridor. "I don't want to have people walk a block (from Sixth and Edison) and see crappy sidewalks," he said.
Hancock noted the uneven sidewalks are a hazard to the disabled in attempting to navigate the walkways. "It's a big issue," she says.
The state visit tomorrow, accompanied by engineering consultant Jeff Louman, will also include a look at Sunnyside Housing Authority properties on Federal Way. The complex, which houses several residents with disabilities, was built before ADA access was required.
"Maybe it did meet requirements back in the day, but things have changed," said Raines.
Fisher said lack of ADA compliance at the Federal Way housing complex might help the city qualify for state funds.
"We won't know until probably sometime next week if we're in the ballpark," he said.