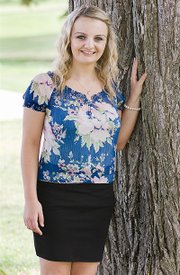 Jenny Hall believes in reaching for one's dreams and has endlessly pursued opportunities that will help her achieve her goals of one day becoming a doctor.
Vying for Miss Sunnyside, she said, provides her the opportunity to help others achieve their goals.
The individuals Hall wants to help most are Sunnyside's Special Olympians. If selected to serve as the 2012-13 Miss Sunnyside, she would like her court to work with the local Special Olympics athletes.
The program is very personal to Hall, who has an uncle who is disabled. She has seen first-hand how the Special Olympics program inspires him and Hall believes the Miss Sunnyside court can help boost the spirits of other Special Olympics athletes.
"It (Special Olympics) is important to me because it provides a supportive learning environment, helping the athletes reach their full potential and promoting fitness and fun," said the Miss Sunnyside candidate.
"This helps people with disabilities show their skills and also show the community that they can achieve whatever they set their mind to," said Hall.
She said she believes members of the Miss Sunnyside court can also learn from the athletes participating in the Special Olympics. There are many benefits to helping those who may face different challenges in life, according to Hall.
She said, "It's about developing relationships."
Hall believes exposing the athletes and the members of the Miss Sunnyside court to a bonding experience will help open many doors for everyone. It will broaden perspectives and it might provide them opportunities to interact with others at school.
"I want them (the court) to see what I see," said Hall, who has helped the Special Olympics basketball program in the past.
She has seen how the support of family, friends and the community has boosted the confidence of the athletes.
Hall, if selected for the Miss Sunnyside title, would like to help the athletes practice. She would like to promote the Special Olympics programs and volunteer during competitions.
Helping those around her achieve a better understanding of the community and the people living in Sunnyside is Hall's most current goal.
She said Sunnyside has several attributes and she would like to share them with others.
If she were to provide a tour of the community, Hall said she would make the first stop on that tour the Sunnyside Museum. Hall said there are many people living in the community, as well as visitors to the community, who don't know much about Sunnyside's history. Much of that history can be learned at the museum, which holds collections that date back to Sunnyside's humble beginnings.
"I feel exposure to the museum would help develop a greater appreciation for the community," said Hall.
She said she would make the next stop on her tour Sunnyside's Central Park.
"It's where a lot of community events are held...it's a central location for gatherings and the swimming pool is open during the summer," said Hall.
She said she is a strong believer in enjoying time spent with family, friends and other community members.
Bon Vino's Bistro and Bakery would be the final stop on Hall's tour of Sunnyside.
She said the atmosphere and the food make the eatery her favorite place to stop for a good meal.
"Roger Hazzard is amazing," said Hall, stating the co-owner and chef makes wonderful food and treats his customers well.
"It's a great atmosphere with friendly staff and wonderful food," she said.
The Miss Sunnyside candidate is proud of her community and says her dreams for the community continue to grow.
Because she is a person who believes in achieving her goals, she plans to attend college after high school to earn a degree in neuroscience. She said she'd like to attend medical school to become an emergency physician in intensive care.
"I have always wanted to become a doctor...not only for the purpose of helping the person, but also for the opportunity to bring a smile to someone who might be feeling down," said Hall.
She is the daughter of Gary and Karen Hall, and her sponsors for the 2012-13 Miss Sunnyside Pageant are Hairworks, New York Life Insurance, Midvale Cattle and Callaway Company.
Hall is one of 13 young hopefuls vying for the Miss Sunnyside title. The Miss Sunnyside Pageant will be staged on Saturday, Sept. 15, at the Sunnyside High School auditorium.