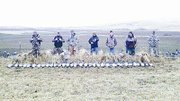 It was a Christmas gift of a lifetime for Chase Hurst when his wife Amanda decided to help his lifelong dream come true.
"(Hosting guided hunting trips) is something I've always wanted to do," he said.
After years of talking and dreaming, a 2008 Christmas gift of a business website got the ball rolling. Now, Hurst has been running the guided trips non-stop.
"From Oct. 17 through Jan. 31, I eat, sleep and breathe hunting," he added.
Weeks before the scheduled guided hunt for ducks, waterfowl and geese, Hurst and his team will begin scouting out the best possible places for the hunt.
"We try to find where the ducks are hanging out at," he said.
He said more often than not the hunts take place near water.
Then, the morning of the hunt the team rises at 3 a.m. to stake out their spot, set up decoys and prepare the area.
"So when it's time for the client to meet us, all they have to do is come and hunt," he said. "We do all the work; we have fun doing that."
After several years running the business, Hurst Guided Hunts, another opportunity came Hurst's way, thanks chiefly to working with three friends, Sean Bryan, Cole Cameron and Jimmy Jimenez. Bryan helps out with providing Labrador retrievers for the trips.
"And they are well trained, he (Bryan) knows what he's doing," Hurst said.
Through a connection Bryan had, the team had the opportunity to appear on a television show called "Duck Dog Waterfowl" which airs on the Pursuit Channel.
"I never in a million years dreamed I would be on TV for hunting; it was a dream come true," he said.
When filming for the show last December, the team had the hunt of their lives, nabbing 32 birds in less than three hours.
With all of his recent dreams coming true, Hurst says that he never could have done any of it without his loving wife.
"I love the crap out of my wife," he said. "She puts up with so much during hunting season, and I just want to thank her for everything."
Area residents are invited to watch this Sunnyside local and Hurst Guided Hunts make their television debut tomorrow, Saturday, July 21, at 3 p.m. on the Pursuit Channel.
More information about the guided hunts can be found at their website, www.hurstguidedhunts.com.
photo courtesy of Hurst Guided Hunts
This past December, Sunnyside resident Chase Hurst and his team were filmed for an episode of Duck Dog Waterfowl. Pictured here are (L-R) show hosts Howard Avery, Billy Ward, Stuart Harr and Ryan Swartz, and the Hurst Guided Hunts team of Cole Cameron, Sean Bryan and Hurst. Show host Ryan Fortier, who took this photo, was also involved in the hunt. The Sunnyside resident and his team are set to make their television debut tomorrow, Saturday, July 21, at 3 p.m. The show is aired on the Pursuit Channel, which is aired through Direct TV and Dish Network.